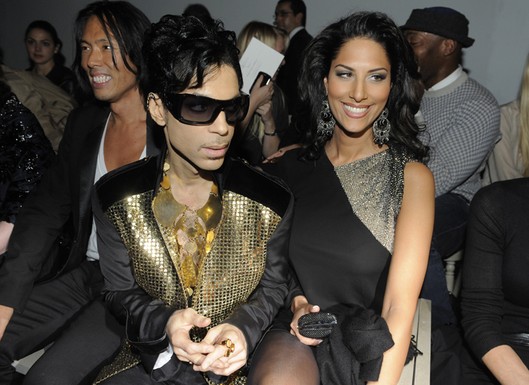 We've been waiting all weekend for proof of Prince at Paris Fashion Week, so we were more than a little excited when we saw the pictures of him perched front row at YSL.
We reported a few days ago that Prince may have been attending Christian Dior , well, those rumours obviously got thrown in the mix a bit, but hey, Prince was in Paris for the shows, that's what matters.
Stealing the limelight from Stefano Pilati, Prince wore a spangled gold sequinned jacket that he designed himself, naturally, and a bold gold necklace falling to his chest. Just as understated as we'd hoped.
Proud to show his designing skills, he told WWD: "It's mine, I designed it.
The rock star headlined a strong VIP turnout with the supermodels arriving in force: Yasmin Le Bon, Kate Moss and Claudia Schiffer – who announced a step down from the catwalk yesterday – all took their seats at the starry show.
Sitting alongside his date, American singer Bria Valente (who he called his favourite model), Prince, to his bemusement, caused rather a stir. Well, we'd expect nothing less.
Looking at the pictures (we can't help do anything but), it would seem time forgot to take its toll on Prince. Does he ever age?
[Images]