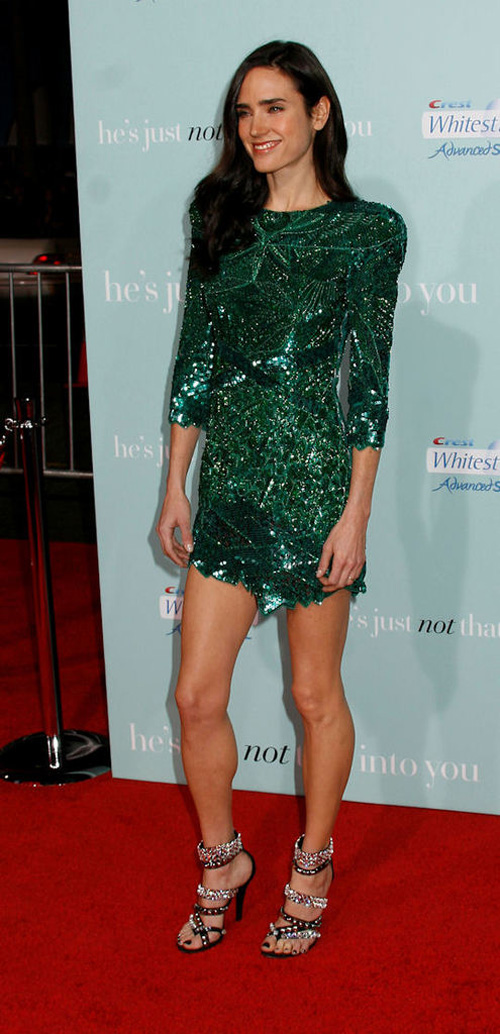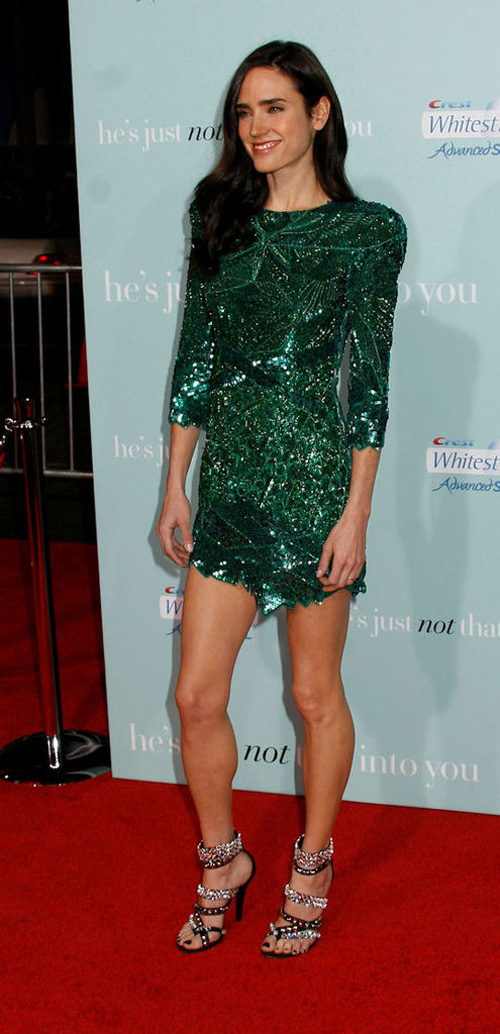 The movie premiere for He's Just Not That Into You was always going to be a stylish affair. And we were all eager to see who would upstage whom and who should have just stayed at home. With such a glamorous cast I'm surprised it wasn't handbags at dawn over the premiere frocks, but it would seem only one of them managed to get it right… Jennifer Connelly.
Jennifer stole the show in a gorgeous emerald green Balmain mini dress that not only showed off her superb figure, but it complimented her raven hair and pale skin perfectly. Balmain is also the brand to be seen in at the moment, so top fashion marks. The heavily encrusted and embellished dress is startlingly eye catching. I'm not sure I would have teamed it with those shoes though, I think a caged gladiator platform, even just in a plain black would have added drama to the look. I think the Balmain studded shoes are a little fussy, but more fashion marks can be awarded for the dark nail varnish.
As for Jennifer's co-stars, where to start? Horrible, boring, horrible and boring. Scarlett Johansson had clearly got carried away with the hair straighteners, hair flat on the head is never a good look. And as for her Oscar De La Renta gown, it's just all wrong, it does nothing for the 24-year-old except age her.



Then we have gorgeous Jennifer Aniston, who bored us to death with her black tux, the only exciting bit was the gold chains. A really half hearted attempt, minus fashion points for you Miss Aniston.
That just leaves the other horrible and boring, Drew Barrymore looked horrid whilst Ginnifer Goodwin was yawn worthy. Ok, so Ginnifer chose a nice colour, but it looks like she just left the beach-front and threw on a pair of heels which are too small. And as for Drew, ill-fitting dress, weird detailing, unflattering length and shoes, no Drew, no!


So, in conclusion, our winner is: Jennifer Connelly, well done and keep up the hard work!