Last Updated on 9th February 2009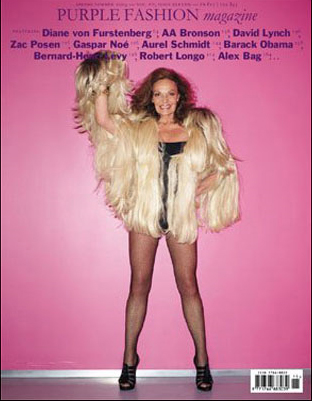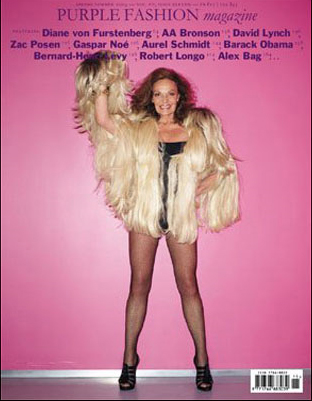 French fashion bible Purple Fashion Magazine is renowned for it's incredible photography and unique approach to fashion. But if anyone had told me that they would have DVF herself on the front cover donning a pair of fishnets and a jacket made of which appears to be blonde wigs (but is actually Martin Margiela) I'd have laughed in their face.
But strangely enough, they've done just that and I have to say it's been a while since I've felt so envious of a woman in fishnets, oh apart from last week with Liv Tyler. Anyway, she does look amazing, I can only hope when I reach 62 that I can look half as good as she does (and if I do I may just buy a wig-like coat).
Sadly, there is no indication whatsoever, on what the contents actually is. I am hoping that it will have some form of link with Barbie turning 50, otherwise I'm not sure what those blonde wigs have to do with anything.
I expect all will be revealed, about the shoot Diane Von Furstenberg wrote on her site:
"How embarrassing at my age to be in fishnet stockings on the cover of a hip young magazine? I was seduced into a day with Terry Richardson, it was a lot of fun!
Do you think she looks gorgeous? Or do you think at 62 you should learn to cover up, or is it a case of 'if you've got it, flaunt it'?!