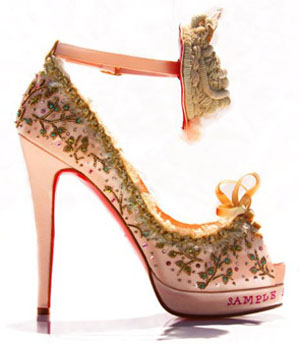 The original fashionista Marie Antoinette set a few trends in her day, and it looks like she'll be setting a few more, thanks to shoe maestro Christian Louboutin.
Yes the flamboyant wife of the equally flamboyant Louis XVI is going to bring some light relief to all this economic gloom. I say light relief…I actually mean plummeting shoeaholics into further debt. The ultra embellished, dangerously high heeled shoes will set you back £3,975 per pair.
Oh but don't worry, if you're lucky enough to have that kind of money, only another 35 people will have a pair of these elaborate shoes. Thirty-six pairs are being made in each colour, you can choose from ballerina pink, or opt for bright yellow or blue.
If you're still not convinced that they're value for money, then maybe this will persuade you otherwise: They come in a special shoe box!
No? Still not sure? Well they have been embroidered by Jean-Francois Lesage, who is the man behind many a couture gown. This does mean that these incredibly expensive shoes will one day be worth a massive amount of money.
The shoes certainly have the OTT flair of the late Queen. Those gorgeous crystals and intricate embellishment and ribbons… they are stunning. But perhaps only as a work of art, what would you think if you saw someone wearing a pair of these?
If you do fancy a pair for yourself make sure you head to a Christian Louboutin boutique on 24th February. But please don't forget your pompadour wig, you couldn't possibly wear these shoes without one!