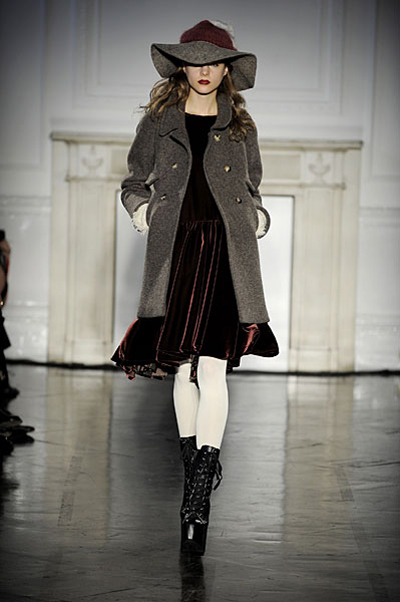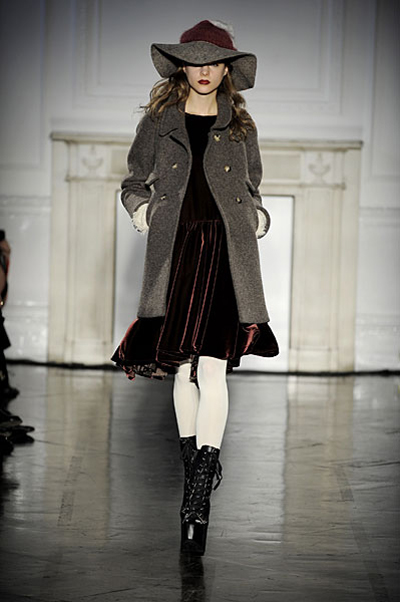 So what do you do, when you've put your best clothes on, your wearing staggering high heels, you've got your ticket in hand and then you have a door slammed in your face? This was my Charles Anastase experience today. After queuing for a while and having run from John Rocha, I was all ready with my ticket to get into the show. And after much waiting, and complaining of sore feet, we climbed the steps to enter, then the PRs turned and said they were now at full capacity, we couldn't come in, and with that they closed the door. On the up side this meant I was on time for the next show, and after reviewing the images, I didn't miss much.
How to describe Charles Anastase Autumn/Winter 09? Oh I know, Peaches Geldof. I'm not sure I need to say any more.






There was quite a nice striped oversized jumper, but it was no different from something you might pick up in Topshop. A velvet dress with floppy hat was quite cool, very Biba. But these were the only real highlights for they were lost in the mess of platform combat boots, ripped tights, gothic make up and what were in essence dull clothes. Could it get worse? Why of course it can, how do you do a model's make up at one of the most anticipated shows? Do you go gothic? Romantic? Or maybe creative? Not if you're Anastase, for he thought it was best to make it look like the models had covered their faces in mud. Nice.






So the collection was mainly made up of baggy jeans, scrawled t-shirts, a bit of leopard print… Peaches' wardrobe. But there was one must have item: see-through nylon trousers, my my, where can I get such wonderous things?! They are just awful. With all the ropes and mud, I'm feeling that there was an asylum influence but to be honest an asylum would have been preferable to this collection. I have never been so pleased about not going to a show, so thank you for slamming the door it was a blessing in disguise.