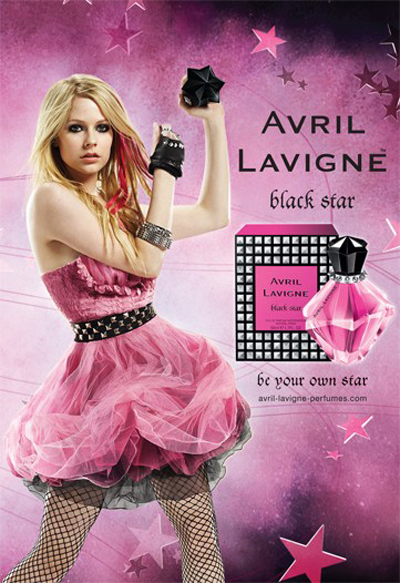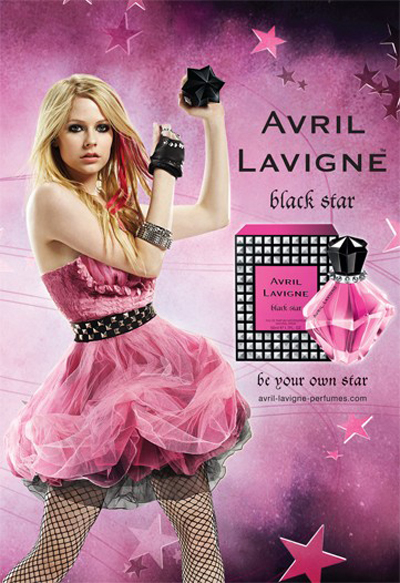 It looks like the rock gods have spoken and they have decided that rockstars must meddle in the worlds of fashion and beauty. Only last week did we announce that Liam Gallagher is launching his own clothing line. Now it has come to our attention that the rockette Avril Lavigne has created her signature perfume.
Called Black Star it is aimed at punk princesses in the making, aka 11 to 19 year olds. She's collaborated with toiletry giant Proctor & Gamble Prestige Products and they are planning for one almighty launch.
Prices are very teen friendly starting at €16 for a 15ml spray. Talking about the fragrance, Avril explained to press at the very fitting Punk nightclub:
"I wanted to make sure it was really me , me in a bottle.
I'm not sure what Avril smells like I only hope it's good. The scent will certainly be a love or loathe fragrance, as it is a concoction of pink hibiscus, black plum and dark chocolate, it's sure to be heady and somewhat reminiscent of a black forest gateaux.
The pink and black bottle with studded ring only adds to the girly factor and is sure to please fans. But if having your own fragrance wasn't enough she has her own clothing line due for launch in Europe next year. It's called Abbey Dawn, so if you're stuck for your little sis' birthday present you can now rest at ease.
What do you make of all these celebrity scents? A gimmick or genuine beauty?
[Source]