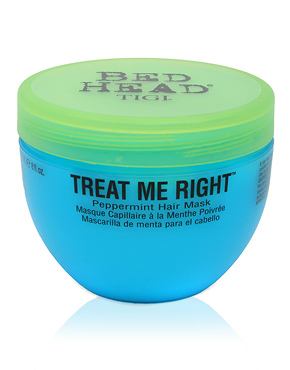 Description: It claims to stimulate and condition hair, leaving hair full, shiny and healthier. Which is of course exactly what a hair mask should do. £14.20 for 200ml
Application: After shampooing apply a "generous amount and leave on for 5 minutes before washing out.
The look: The bright blue tub and neon green lid is quite fun, it certainly stands out, and has a youthful feel. The product itself is a light blue and looks incredibly thick and sticky.
The smell: The worst bit, anyone who has ever taken Gaviscone will be all too familiar with the smell of this hair mask. It is just horrible, that chalky peppermint chemical smell is incredibly off putting, all it does it conjure feelings of indigestion.
The feel: Slightly jelly like, it's thick which makes it difficult to smooth evenly across the hair.
Result: I followed the instructions and calmed my gag reflex due to the horrid smell. After washing out the conditioner I expected my hair to be less tangled, it wasn't. If anything I was fighting the knots more than ever. After drying, without using any other products, my hair was not improved. The ends were drier than ever, the roots were weighed down and my hair looked drab, in fact if anything it was stripped of all of it's usual shine. Oh, and it smelt of dodgy peppermint.
Overall: Really not great, my hair did not look or feel in better condition at all, perhaps with prolonged use or on thicker hair maybe it would be better. But I have used hair masks in the past, which have genuinely transformed my hair straight away. This isn't value for money or a good product.
Score: 1/10
The brand: A "fashion" based haircare range. It is stocked in a number of salons and there is a range of products from styling mousses and waxes to shampoos and frizz treatments. There are a number of other lines under the TIGI title which include Catwalk and Hardcore. Interestingly it is difficult to find information on the brand.
Rivals: Lee Stafford, Charles Worthington, Trevor Sorbie
£13.75, available at ASOS.com.