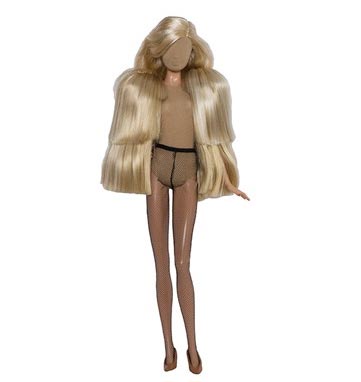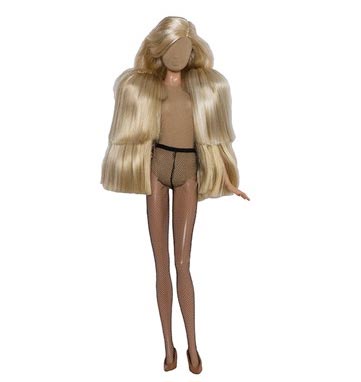 I don't know if you've heard but it's Barbie's 50th birthday. She has been keeping it fairly low key, only a full fashion show at New York Fashion Week, numerous parties and a few pieces at London Fashion Week and Pret-a-Porter. Oh not forgetting those Barbie chocolates at Hotel Chocolat. So yes, all in all, a rather low key affair.
But the iconic doll has decided that the celebrations simply must continue and so is having a rather gorgeous exhibition at Galeries Lafayette. The exhibition will open on Monday and features outfits designed by the likes of Calvin Klein, Jean Paul Gaultier, Karl Lagerfeld, Danielle Scutt, and Alexander Wang. There are 50 designers in total, but when we saw Maison Martin Margiela's offering, we were…well a little shocked.
We've seen the wig like coat before, when Diane Von Furstenberg appeared on the front cover of Purple magazine. But the mesh mask and body suit does look really rather sinister. Whilst the other designers have created luscious loveliness, Margiela has set out to scare. But then would we expect anything other than controversy?
The Barbie exhibition ends 25th April, and will then go on the road. We don't know the dates of when and where yet, but we'll keep you posted. This is one exhibition not to be missed!
[Source]