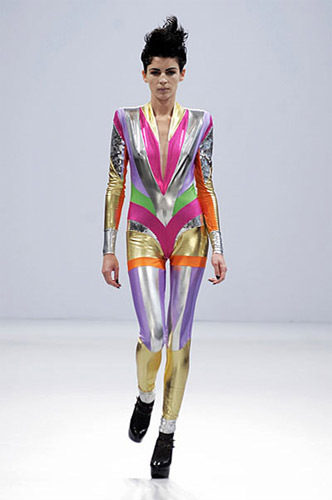 She made her return to the catwalk this year when she sent down a range of her iconic jumpsuits and super tight outfits. Pam Hogg is certainly back with a bang. During the month of May, Pam is to open a pop up shop for just one month in London's Soho on Newbury Street. The store is a only a few doors down from Pam's original store back in the 80s. Her new store we're sure will be a fabulous display of inventiveness and a hint of madness.
In store, shoppers will be treated to t-shirts, plates, matching mugs, posters, badges, signed CDs as well as the Pam Hogg mainline collection. She has created the t-shirts and mugs to be credit crunch friendly aka affordable. But knowing Pam Hogg these won't be ordinary mugs, you can expect her legendary prints to emblazon them.
Pam is also planning some one off pieces for the store:
"The Carnaby Association had an empty shop, and wanted to put me in. I've had my sewing machine out and am making a selection of one-off and totally exclusive cat and kitten suits for the store.
Pam will also be there on the first day if you fancy meeting her for yourself or perhaps to get your catsuit signed.
The store will open the second week of May, visit Pam Hogg to find out more.
[Source]