Last Updated on 30th April 2009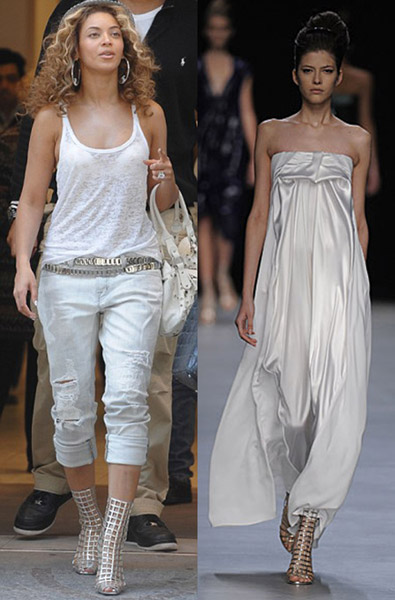 One of the most beautiful items of Spring/Summer 09 was ruined for fashion lovers by the sight of them on Beyonce's feet. Beyonce has always been one for eccentric fashion tastes and has on a number of occasions got it very very wrong. But over recent years she has started to get it very right. She looked good in her Balmain jacket and her red carpet outfits have become refined and stylish. So I was horrified to see Beyonce attempting to wear those beautiful £1,000 YSL shoes without an inch of style.
Some of you may think I'm being harsh, and perhaps I am but this is not a good outfit for so many reasons. The trilby paired with giant hoops isn't a great look, then you've got the see-though vest paired with some not very flattering ripped crops. The belt is probably the most offending item as it looks like it's meant to match the shoes when it just doesn't. The final issue is that although her legs are superstar gorgeous, pairing high leg shoes with crops always looks wrong.
I would have loved to have seen her pair them with a sundress or maxi skirt, they do need to be prettied up just because they are such a dominant style. She's such a gorgeous girl but I really don't feel that this outfit does her or those amazing YSLs justice. How do you rate Beyonce's style? Are you loving or loathing her throw it on look?