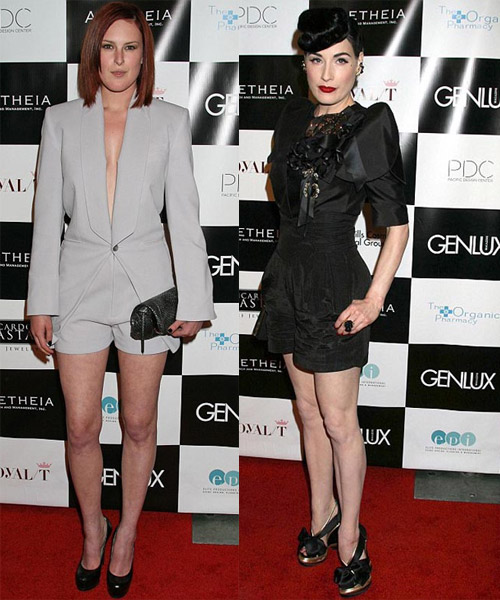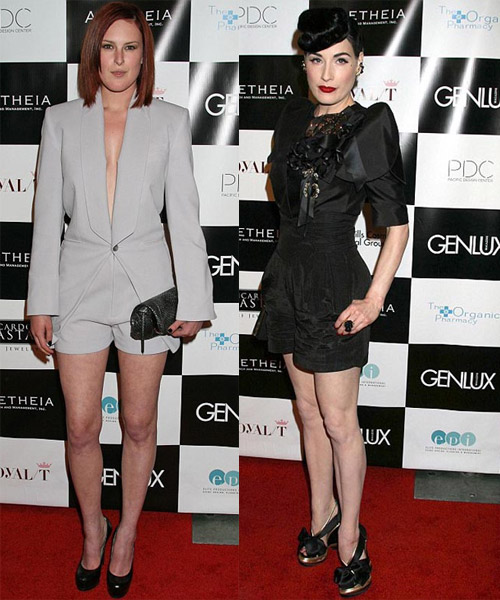 Normally I wouldn't advocate plunging necklines and super short shorts, but in this instance it works. The muted grey is a flattering shade and the whole ensemble suggests a style icon in the making.
But whilst it works as an outfit you can't help but notice Rumer's somewhat mottled legs. I myself as a pale skinned girl can completely sympathise, but she would have done better to put on a little body foundation or a pair of tights.
This is the problem with short shorts and pale skins, it is a shame though because this is an example of how beauty neglect can detract from an otherwise great outfit. Although if I can be really picky I would have liked to have seen her wearing shoes in the same gunmetal shade as her clutch (but I like the shape of her black courts).
But with the exception of the pink legs and exposed boob tape this look is fantastic and just shows that Rumer may be a woman to watch.
Someone who we love to watch and would never been seen with mottled legs was a fellow guest at the Geniux Magazine BritWeek Designer of the Year Fashion Show and Award, Dita Von Teese. Dita also opted for shorts but had clearly powdered her legs first. I almost always love Dita's style and those shoes are amazing.
Whose style do you prefer Rumer or Dita? And are you still loving the short short trend?
[Images]