Last Updated on 22nd May 2009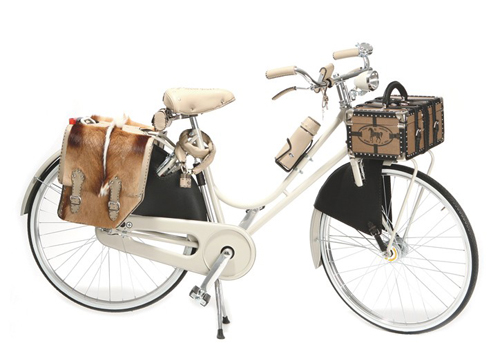 If you have been thinking about cycling, and the report on Topshop's new cycle range nearly convinced you. Then check out this bicycle from Fendi.
Yes any die-hard fashionista will find it hard not to feel a pang of, "I want when looking at this bike, but just wait for the price tag. At a Fendi shopping event, a few well to do shoppers picked up one of these little wonders. The new bike called Fendi Abici Amante Donna as featured in Vogue has been causing quite a stir. It has of course been designed with fashion in mind, and it comes at two price points. The cheaper version, yes cheaper version costs $5,900 but it does come with leather accessories including a leather case (usual price $975).
The more expensive, luxury version costs a mere $9,500. This one comes with fur saddlebags, now they will be perfect for a rainy day, I don't know why people don't always use fur saddlebags. You can just picture it, riding up to the office looking chic on your Fendi bike, only for a colleague to comment that they can smell wet dog….lovely.
But the bicycle is lovely, the whole styling of it is divine. And if you had the cash and wanted to cycle it would be an investment. Although I don't know how long a cream bicycle would stay cream for.
What do you think of Fendi's venture into transport? Do you love it or think it's a waste of hard-earned cash?
[Source]