Last Updated on 19th October 2013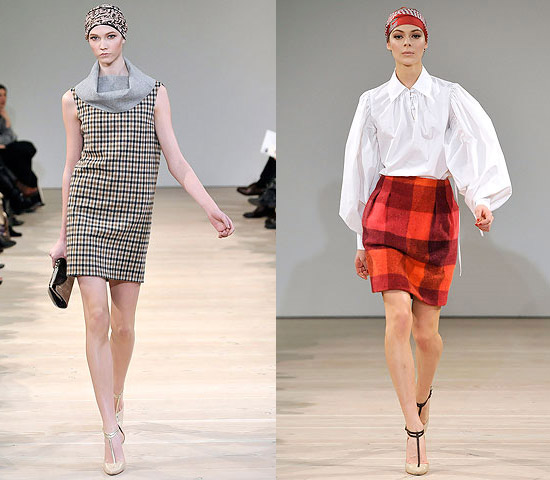 In times of uncertainty, people traditionally look to the familiar for comfort.
It's almost a primal urge – one that is with us from childhood where we choose our favourite blanket/teddy bear right through to adulthood with carbohydrates and trashy predictable TV and romcoms.
But comfort and fashion are not often bedfellows. In fact, if anything, the collective uncertainty brought about by the recession has pushed our tastes to the extreme.
Extreme shoes with platform heels that verge on bondage wear; skirts with padded hips and huge shoulder pads to create an almost cartoon-like silhouette; expensive denim distressed and faded to within an inch of its life and treggings, a ridiculously named item of clothing tat will forever polarise opinion.
But underneath all this flash and outlandishness there is actually something familiar that we still turn to for comfort in fashion and that is the brand.
Yes, the brand, be it the name of the designer him or herself, the name of the clothing range or the name of a shop still inspires confidence. And at the top of this brand hierarchy is the heritage brand.
We only began to really consider those shoulder pads because of Balmain, one of the most established names in a world where labels come and go and designers fall in and out of fashion with the seasons.
But despite the strength of its heritage, Balmain has had to re-invent itself to survive and it is just the latest in a series of re-inventions that have made heritage huge again.
Burberry, a company once known for just one item of clothing and a distinctive pattern , the trench coat with its now ubiquitous checked lining – was almost forced to lead the way when its check was copied by every street trader around the world making what had once been exclusive and expensive into something that looked cheap and tacky.
Today Burberry is an international fashion brand that has enough clout to declare a Burberry day in New York, create a flurry of excitement with the news it is to show at London fashion week and has revealed plans to expand in the US. In short the brand has staged one of the most successful re-inventions the fashion world has ever seen.
This appears to be a feat that British brands are particularly good at , Harold Tillman, chair of the British fashion council, has pulled off a similar if smaller coup with Jaeger re-establishing it as an influential British fashion brand and dragging out of the middle-aged doldrums.
The only question now is, which brand is next?
My money is on Aquascutum, currently the subject of huge amount of speculation over a buyout by Chinese clothing group YGM after a bid from the labels management, including chief executive Kin Winser who turned Scottish knitwear brand Pringle into a desirable commodity, was rejected.
Aquascutum is ripe for a revival , it has the comforting name, it has the quintessential Britishness and it has heritage. All it needs is a bit of a facelift to re-launch it onto the international fashion stage.