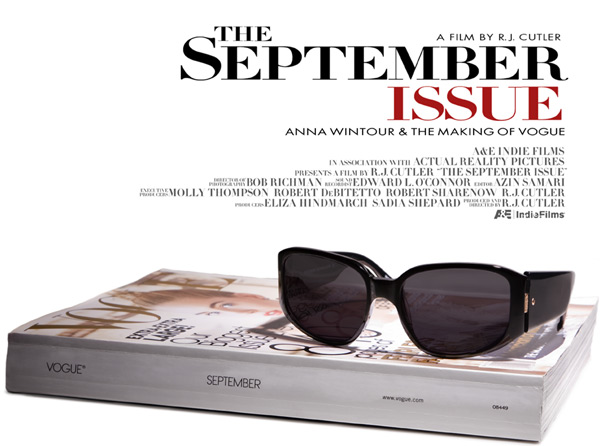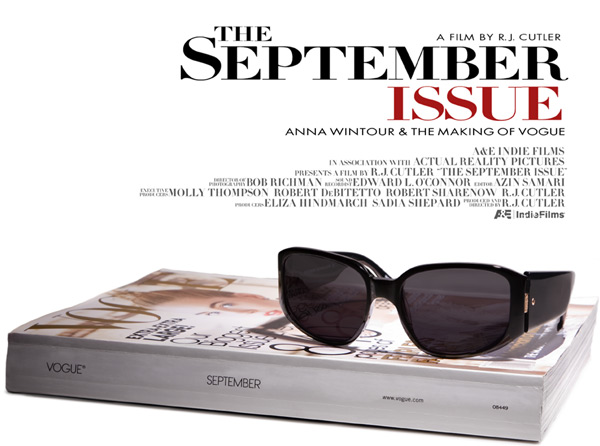 It's hard to imagine a film that could top the A-list fashion insider appearances in The September Issue.
The film, which chronicles the nine months leading up to the printing of Vogue's September issues, boasts appearances from Thakoon, Karl Lagerfeld, Stefano Pilati, Isabel Toledo, Bee Shaffer, Linda Fargo, Vera Wang, Oscar de la Renta, Mario Testino, Coco Rocha, Raquel Zimmerman, Sienna Miller, Patrick Demarchelier, Si Newhouse, and from Vogue, Anna Wintour, Grace Coddington, Andre Leon Talley, Sally Singer among many others , often resulting in surprisingly comical scenes.
Expertly directed by R.J. Cutler, The September Issue centers around Vogue's editor-in-chief Anna Wintour, who has spend most of her 20 years at Vogue dutifully shunning the spotlight, choosing instead to hide behind her trademark bob and dark shades. Interestingly enough now, amidst Conde Nast lay-offs, cutbacks, and McKinsey reviews, Wintour seem to finally , with a 60 Minute segment behind her and an appearance on The Late Show with David Letterman on yesterday– be stepping into the spotlight. That said despite building up Wintour as "the single most powerful figure in the $300-billion global fashion industry, there's not denying that it's Vogue Creative Director Grace Coddington who truly shines.
Coddington adds a key human element to the film and one can't help but sympathize with her as more and more of the shoots she has so diligently laboured over get canceled by Wintour in mere instants. Vogue truly is, as we clearly see in the film, Anna Wintour's magazine. I kept thinking of the parallels between Giancarlo Giammetti and Valentino when thinking about Coddington's relationship with Wintour and the hardship that comes with always working in someone else's shadow. But Wintour's power doesn't stop with Vogue- it extents far beyond her duties as editor-in-chief. We see her influence on department stores who buy items taking into consideration the trends she would like to highlight, we see her push for Thakoon as the creative consultant for Mango, as well as her pull on getting the young designer the cover of WWD. There truly isn't one aspect of the fashion industry that Wintour is not involved in.
That said, the overall feel of the movie was wonderfully light-hearted (the film begins with a monologue from Wintour in which she remarks , "Just because you like to put on a beautiful Carolina Herrera dress of a pair of J Brand blue jeans instead of something basic from K-Mart doesn't mean you're a dumb person). It manages to be engaging, entertaining, and surprisingly one of the funniest films I've seen this year (think Andre Leon Talley playing tennis , a sport which he picked-up after Wintour told him to hit the gym– with a Louis Vuitton towel around his neck and an arsenal of LV bags to his side after, Thakoon comparing Wintour to Madonna, and countless priceless looks from both Coddington and Wintour).
Surely fashionistas in major cities around the world will flood theaters and come out delighted, but will Middle America embrace the women who, in a 60 Minute outtake, remarked "I had just been on a trip to Minnesota where I can only kindly describe most of the people that I saw as little houses, that remains to be seen.
The September Issue opens on August 28th in NYC and September 11th everywhere else.