Last Updated on 21st September 2009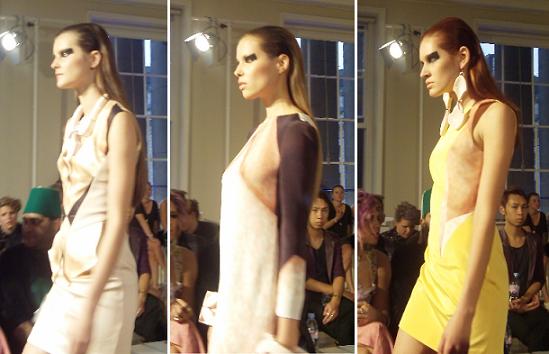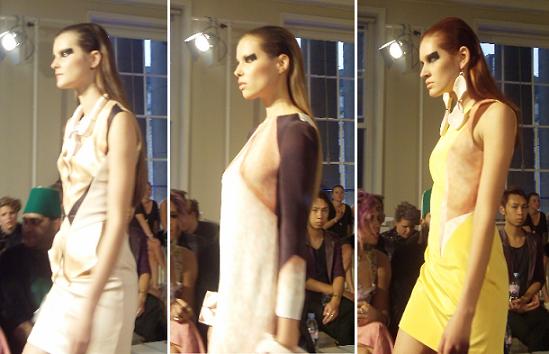 It was the one we'd all been waiting for yesterday evening; Krystof Strozyna , and he didn't disappoint.
His S/S10 presentation , held in the modern minimalist Portico Rooms at Somerset House , was a slow-paced catwalk of edgy black and nude pieces with exposed zip details, blurred prints, bright colours, and hugely oversized pastel pink bracelets.
The focus of Krystof's collection was all on the cut , sharp lines and clever sculpturing showed off the designers talent for creating the perfect fit, whilst cut out details, pleated panelling and rigid ruffles transformed his silhouette into something out of the ordinary.
Bodycon pieces played in majority throughout Krystof's collection, but sharp tailoring, box boy-cut blazers and ankle length trousers worked in contrast, which marked the designer's versatility. Dresses in juxtaposing black, nude and pale pinks and peaches were among the stand-out pieces, whilst his signature graphic prints , inspired by tropical flowers and rainforests , featuring across dresses, jackets and trousers were definite crowd pleasers.
Krystof's trademark handmade lacquered-wood jewellery , which earned him New Generation and Topshop sponsorship for his show last season , was back in the form of oversized pale pink bracelets, and chunky necklaces in similar designs of blacks and whites made a serious statement.
The slow pace of the catwalk along with the models' heavy eye make-up and fierce faces may have made for a rather mysterious show, but this, for me, only furthered my intrigue and confirmed that this designer is utterly unique.
This is really exciting , Krystof's S/S10 collection is only his second season at London Fashion Week. Keep your eye on this one; he's something special, and I'm predicting great things ahead.