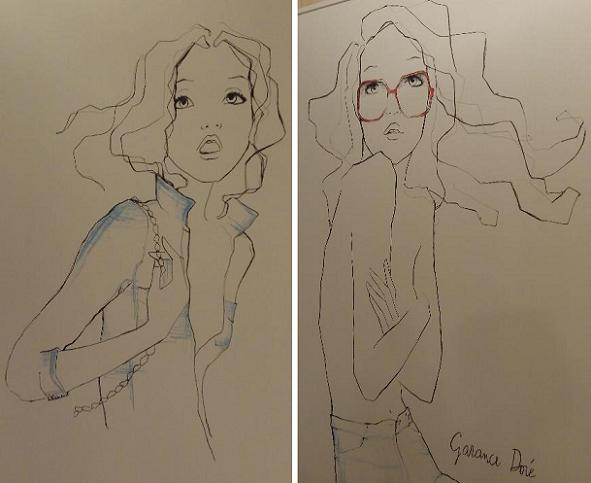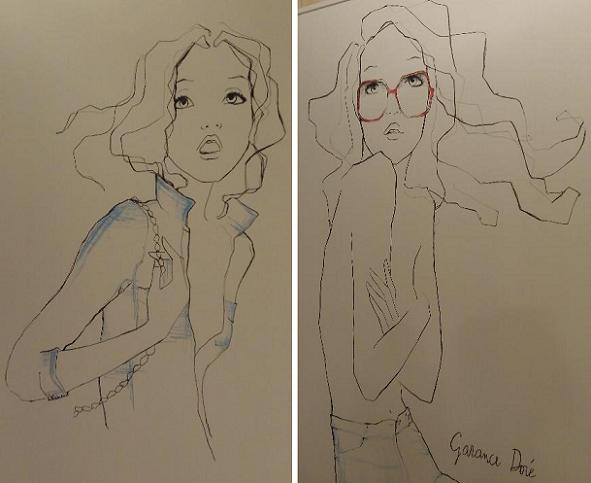 Yesterday we were invited to a private exhibition of Garance Dore's illustrations and photography at the pop-up Gap 1969 store in Kingly Street.
To celebrate 40 years of the denim label, French illustrator and photographer Garance has created a series of sketches and street style photography marking Gap's heritage , just one of Gap's collaborations with designers and artists to mark its anniversary. As well as the exhibition, Garance has also designed a range of exclusive limited edition T shirts for the store featuring some of her unique sketches, which were on display and available to buy last night.
It was a beautiful exhibition, presented in a rustic industrial styled room. Photographs mounted on every wall were displayed alongside large illustrations of pretty girls in her signature pen-sketched style as well as scribbles of her inspiration general thoughts. Her sketches are very reminiscent of Barbara Hulanicki's penned drawings, which is unsurprising considering the Seventies is the illustrator's favourite decade.
What's great about Garance is her honesty; her scribbles of thoughts are so free-flowing, so down-to-earth and so, well, honest. There's no pretence where Garance is concerned; she doesn't attempt to write profound fashion statements or set herself up as some famed fashionista, she simply shares her thoughts as a fashion lover and does so with such passion. Garance's designs are real and accessible, which is really quite refreshing to see, and it's this that seems to resonate with her followers.
The champagne flowed, people chatted like they were old friends (well, most of them probably were), and almost everyone left a T shirt heavier. The exhibition was a huge success, and if I wasn't already a fan of Garance Dore before, she'd certainly have one more joining the club.
Catch Garance Dore's limited edition collection at the Gap 1969 pop-up concept store in Kingly Street, which opened on 10th September. Running for 19 days and 69 hours (we love that dedication), it will have its last day on 3rd October.