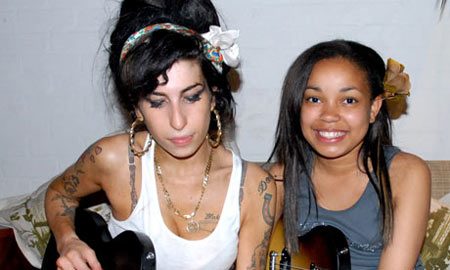 In a brief diversion from our usual fashion news, we've paused to tell you something we found rather exciting: Amy Winehouse is set to perform on BBC One's reality show Strictly Come Dancing this Saturday.
Who'd have thought it? The troubled singer , who is rumoured to be designing a range with PPQ , will be singing live backing vocals as her goddaughter, Dionne Bromfield, makes her TV debut singing her forthcoming single 'Mama Said'.
"Amy and I both love Strictly Come Dancing. I watch it every single Saturday, so it was brilliant to find out I'll be on TV for the first time singing on one of my favourite shows, said 13-year-old Dionne.
Amy is already singing the youngster's praises. "The first time I heard Dionne sing, I couldn't believe what I was hearing, she said. "I'm just so proud of her.
Mark Linsey, controller of entertainment commissioning, said they had been looking to book Amy Winehouse on the show for some time. "Dionne is an exceptional new talent and it will be an extra special event for our viewers to see her perform alongside Amy Winehouse, he said.
We can't help but wonder whether this is an attempt to boost the show's ratings as it goes head-to-head with the live performances on X Factor this Saturday. Even so, we're rather looking forward to it. It's good to see Amy back after a tough few years, isn't it? Maybe we should start taking bets on how big her beehive will be…
Tune in to BBC One at 7pm this Saturday to catch the debut.