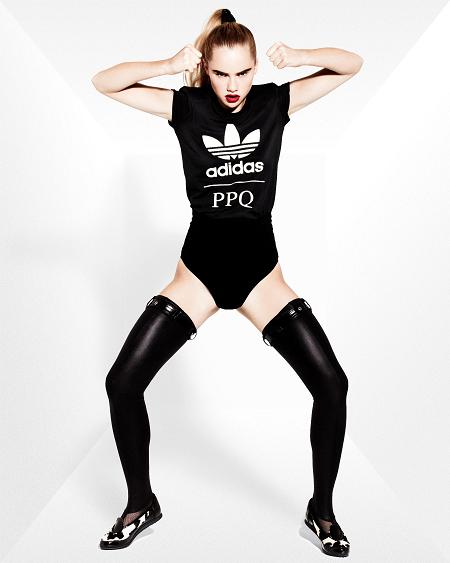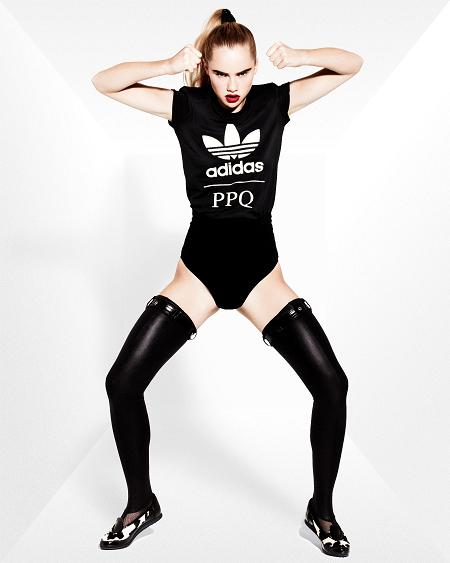 Rember a while back when we told you London's coolest fashion label, PPQ, would be teaming up with Adidas to create a collection of classic-cool and simple-yet-stylish sportswear? It's arrived! PPQ co-founder Amy Molyneaux reveals all…
Speaking of the collaboration in a recent interview with Grazia, Amy admitted, "Adidas has always been our sportswear of choice, I have given Percy [PPQ's other half] Adidas for the past 10 years at Christmas… and he's never without his bowling bag or a pair of Gazelles near by.
"The idea to work on a collaboration together came about through chatting with Gary Aspden from Adidas, next thing we knew we were in Germany looking through the archives and hanging out in the Adidas canteen. I've always coveted the Trefoil logo and its ability to be ever stylish since its design. It defines music and fashion and is an integral part of historical style. It's very music related and therefore has a synergy with PPQ, she said.
Shot by famed fashion photographer Rankin, the pieces from the collection show classic PPQ styling with a contemporary Adidas twist. "Our designs have a nostalgic slant to them; we referenced Mohammed Ali's original boxing boots and key items such as stirrup pants that most girls seem to want for it's practical style. We are not scared of simple classics, and this is what we have offered in the collection, Amy added.
And her favourite piece? "I'm partial to the bobble hat and matching mittens, as they are padded thermal fleece with a jumbo pom pom on the hat and trefoil panda paws on the gloves so you can leave your mark on snow balls. Ok, that is just too cute.
Forget the gym, we'd rather adopt the collection into our every-day-wear wardrobe – it's that good.