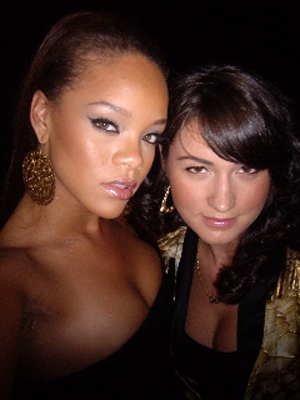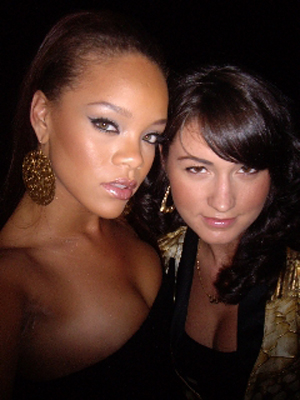 A stylist for over eight years, Mariel Haenn has worked with some of the world's top celebs. She's dressed Ashley Simpson, Ciara, Will Smith and one of our favourites…..Rihanna just to name a few. We caught up with the lady responsible for Rihanna's transition from beautiful girl next door to sexy style icon for the new generation.
Which trends from the Spring/Summer 2010 catwalks are you getting excited about?
Some spring/summer trends that I'm excited about are bold bright colors and big accessories…lots of flowy silks, satins, and chiffons. I especially love that jumpsuits are going to be big for spring.
Who or what influences your creativity when styling your clients?
My clients influence me a lot, and many times they have a good idea of what type of look they want to achieve. Runway shows and Old iconic movies definitely give me inspiration. Grace Jones is one of the top influencers of my work.
If you could get your stylistic hands on any celebrity who would it be, and how would you style them?
Luckily I have the one celebrity I would love to work with (Rihanna) but if I had to choose some one it would be Lady Gaga. I love what she does for entertainment but I would love to bring her into a more everyday look of her creative expression.
Has the international recession affected the way you style your clients?
The recession hasn't so much affected the way I style because I work with every price range of clothes but not necessarily all high end.
Which cities in the world are your favorite for seeking new inspiration?
My favorite cities are Japan, London, Paris, and New York.
Out of all the people and fashion shoots you have styled which has been your personal favorite look?
Wow! Personal favorite look might be Rihanna at 2008 AMA awards performance look (studded bustier and eye patch) or Ciara feat. Justin Timberlake "Love Sex Magic video.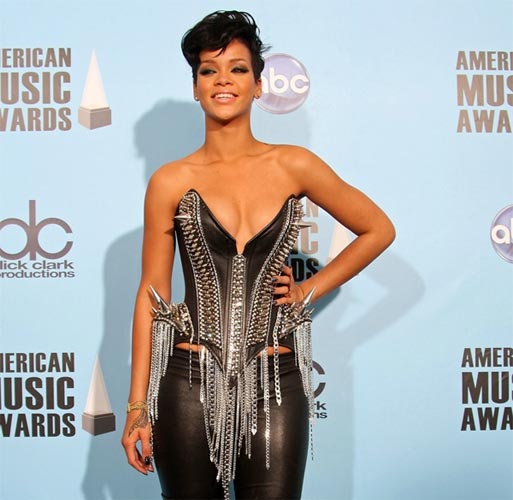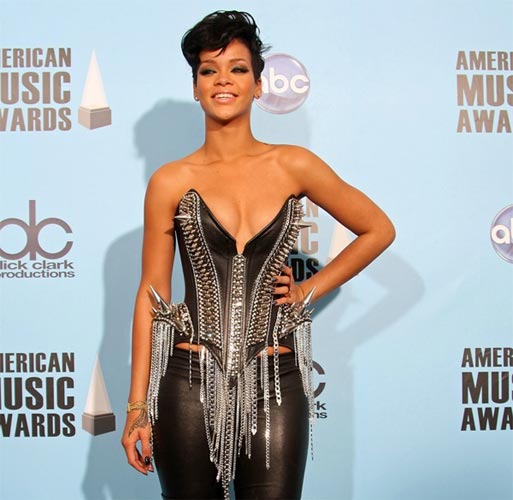 Rihanna's style has evolved from Barbadian island girl to bonafide style icon, which you are partly responsible for. How did you decide on the drastic change?
Rihannas evolution was a natural progression that worked with the evolution of her music. When I first started working with her she was in her baggy jean phase and my goal was to make her a little more cutting edge and sexy and over time continued to push the envelope.
What fashion trend do you wish had been kept in the designers studio?
I wish that crocs never left the design lab! Although I'm all about comfort but we can do better that!
What fashion trend do you think will stand the test of time?
I think that the rocker chic look is going be around for awhile. A few other styles that I'm loving right now and will probably stand the test of time are from the Saks Fifth Avenue Fall 2009 Want It! campaign presented by MasterCard. Key pieces within that campaign include looks like: the strong shoulder, rocker boots, leggings, mixed metal necklaces, cozy knits, the neck loop, the forever bag, the vest, three-piece dressing for men and the lacquered lip. All items can be found at Saks Fifth Avenue or on Saks.com and you can use the "the little black card, the Saks Fifth Avenue World Elite MasterCard for purchases in and out of Saks to earn rewards towards your next Saks purchase.
How would you describe your own personal style?
My personal style is street-chic, and I like to wear comfortable clothes with great shoes, bags and lots of jewelry.
What top tips do you have for our readers when it comes to developing a personal style?
When developing a personal style I suggest lots of research, magazine tear sheets and references that you like to get a good sense of what you're looking to achieve. Start slow and don't try to redo your whole closet at one time
Visit MariellHaenn.com