Last Updated on 5th February 2010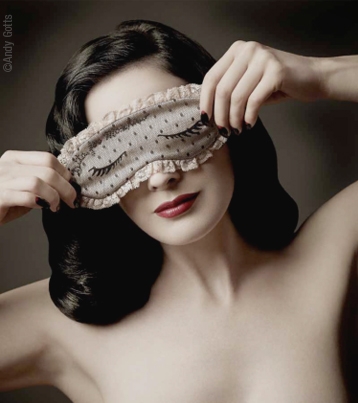 She knows the importance of beauty sleep alright, which is why Dita Von Teese is lending her haute hand to Moschino, designing a limited edition eye mask for the luxury label.
The burlesque beauty has teamed up with Moschino to design an exclusive piece for glamorous girls who like to sleep sweet, and Dita, it would seem, is rather excited about the collaboration.
"Moschino has always been one of my favourite labels, I love the sense of humour infused into Moschino's designs and the way that it transcends fads and is always chic, she told Vogue UK. "All of my Moschino pieces are treasured, and not one piece ever goes out of style.
And why an eyemask, you ask? "I travel a lot, so having an eye mask is vital, and as always, I believe that you can add glamour to any useful item! This one is going to be a collector's item for sure! I love mine!"
For Dita however, this is more than merely attaching her name to a design , this is for charity. Profits from the design will fall directly to amfAR, a leading non-profit organisation dedicated to the helping AIDS research, prevention and treatment , a cause that the star proudly supports.
Dita's eye mask , a pink silk-satin piece, layered with spotted lace, trompe l'oeil eyelash detail and 'Dita for Moschino' embellishment in rhinestones , comes in a cute matching case and is available at www.moschino.com now, for £80.
Sleep has never been so stylish.
[Images]