Last Updated on 11th February 2010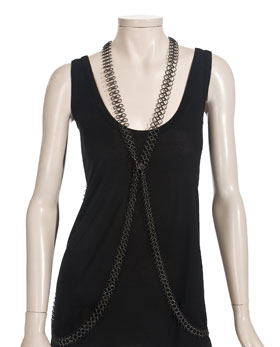 Not sure how to accessorise that that plain shift dress? Bored of your current jewellery? then why not take a look at the work of Fannie Schiavoni, a Swedish Jewellery designer who has not only recently graduated from London College of Fashion, but has also been awarded NEWGEN newcomer exhibition sponsorship at London Fashion Week.
Renowned for her chain accessories, Schiavoni creates fresh, distinctive pieces that make alternative wardrobe statements, depending on what clothing they are paired with. Both Susie Bubble and Fearne Cotton and have been spotted donning Schiavoni designs and the chain accessories have already featured in many editorials, including the likes of ELLE and Fashion156.
Luckily for us, Browns Fashion have snapped up the Swede's handy work so we can all get in on the style secret.
For starters, we're after this minimalist Double Chain Necklace…£135 from Browns Fashion.