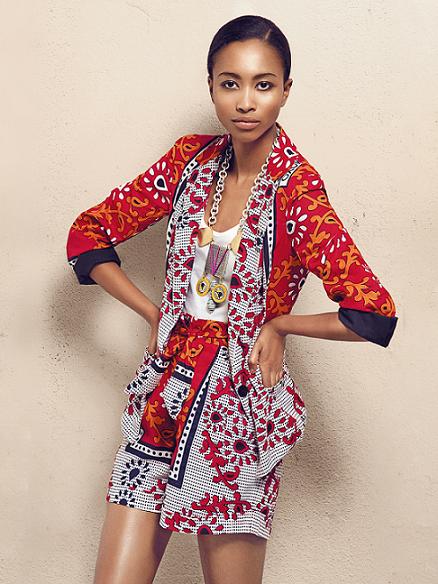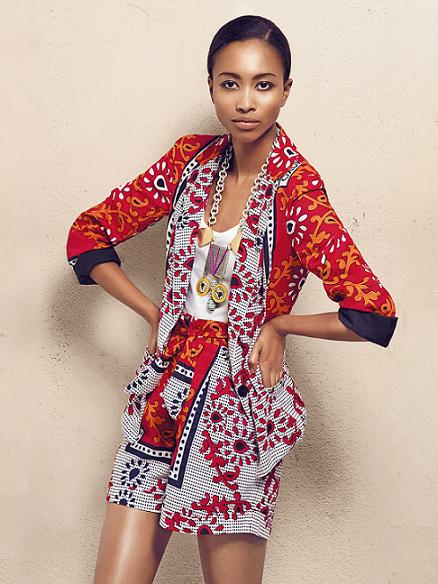 Facing the ever-important issue of charitable clothing and eco-friendly fashion, online shopping haunt ASOS.com is launching its 'Africa' line today; a capsule collection inspired by , and developed in – the colourful continent.
With the sole aim of supporting trade in Africa, the new range has been designed, sourced and produced alongside several small African communities, working with artisans and production groups to create a contemporary collection with traditional textures.
This season's silhouettes , seen in the likes of jumpsuits, dresses and emblazoned jackets , have been reworked using African Kangas, a traditional vivid multi-purpose cotton print worn in Eastern Africa (the majority of which have been produced by SOKO, a non-profit organisation providing fair wages, employment and training skills to communities in Kenya).
From hand-crocheted tunics to organic cut-out detail tees, a rolled-sleeve blazer with matching cullots to high-waisted chinos, and a neutral jumpsuit to a puff-shouldered beaded-band dress , prints are clashing, cross-referenced, and reinterpreted, not to mention utterly gorgeous for spring.
Hand-beaded leather sandals, belts and woven raffia baskets sit comfortably alongside the clothing to complete the continent's collection , but our top tip lies on the bang-on-trend scarf-tie wedges for an instant spring update.
Housed in the Green Room, ASOS Africa launches today on ASOS.com, with prices starting at £15. Finally, shopping we can feel good about.