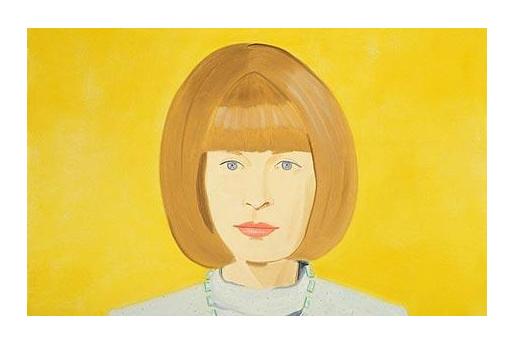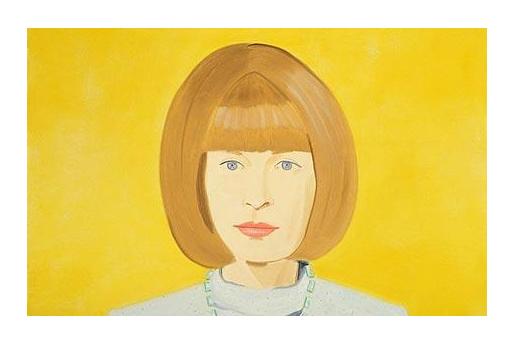 'Nuclear Wintour' well may be a name we're used to, but the portrait of the US Vogue editrix that's just been unveiled is far from familiar. So much so, in fact, that we're beginning to wonder if it's even her.
Iconic bob aside, we're struggling to see a real likeness. Perhaps it's because her signature sunnies are absent, but that, we hear, was a deal struck between Anna and her painter.
That painter is Alex Katz, an American artist who, after watching Wintour in The September Issue, noticed she had "lovely eyes and asked her to pose for the portrait without her trademark shades.
"Painting Anna was like shooting fish in a barrel, Katz told the Telegraph. "There was no way I could miss it." We're not sure comparing Ms. Wintour to a fish is the wisest move, but it seems the fashion force enjoyed her experience nonetheless.
"I couldn't think of a nicer way to spend the afternoon, she said of her time spent in the artist's studio late last year. "We talked for two hours while he worked.
The painting is set to go on display this spring at London's National Portrait Gallery, where an exhibition of Katz's work is being held , and the gallery, it seems, is thrilled to house it.
"This is a wonderfully stylish portrait of a powerful force in the international world of fashion, said Sandy Nairne, director of the NPG. "Alex Katz captures an essence of Anna Wintour on a grand scale."
And what does Wintour make of her portrait? "I was pleased to see that he used a lot of colour," she said.
Tactful, at least.
[Images]