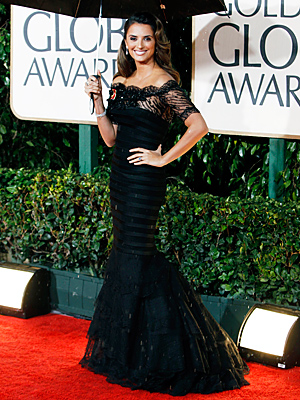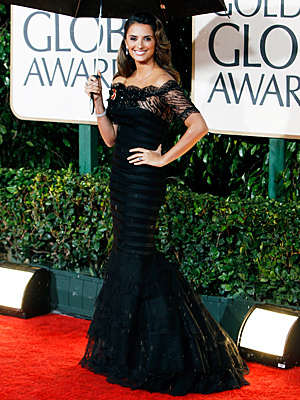 So, in case you hadn't heard, it RAINED at the Golden Globes and, hold the phone , some A listers even held their own umbrellas.
Now, as big as that news was , we were more concerned with the award winners, Ricky Gervais' presenting job and of course, the dresses. See below for a pick of red carpet hits – alongside the occasional miss…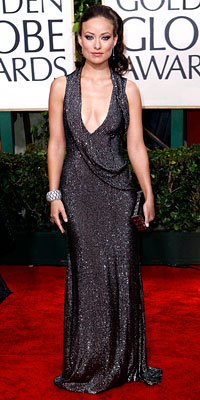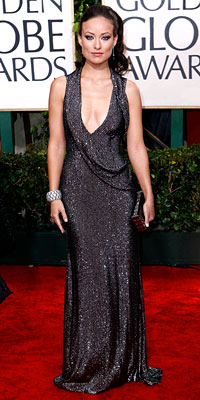 Olivia Wilde – Gucci
The House star and former OC actress went for the glamour vamp look for the red carpet, noting that her Gucci gown would be sold off at auction. Proceeds will be going towards the support efforts in Haiti.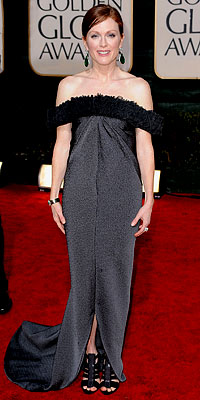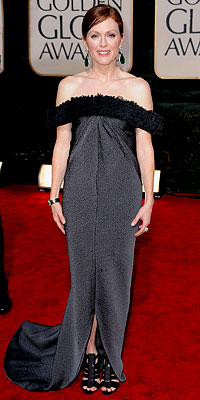 Julianne Moore – Balenciaga
We love Julianne Moore but this Balenciaga gown just doesn't seem to sit right and has ended up looking a little unflattering. Still, she got to spend the night with Tom Ford as her date so she gets extra fashion credit for that one!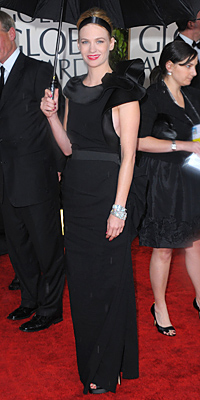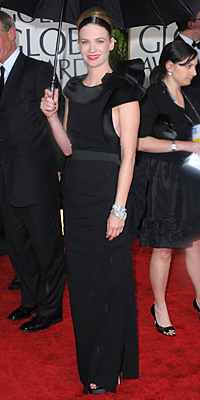 January Jones – Lanvin
It might be black but there is nothing boring about the Mad Men star's full length Lanvin ensemble. The actress added a bit of prom night glamour with a matching satin headband and Brian Atwood platforms.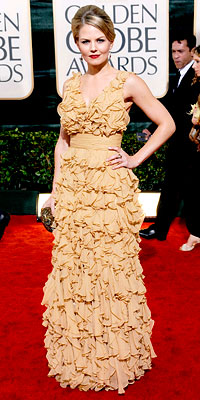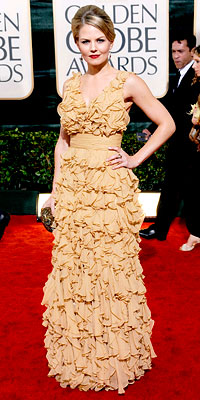 Jennifer Morrison – Luis Antonio
Major congratulations to Jennifer Morrison who has nabbed a boyfriend that can go out and do her clothes shopping, successfully. The House star proudly told the red carpet that she received this textured number from Puerto Rican designer, Luis Antonio for Christmas. We bet she was one of a few wearing something from their own wardrobe!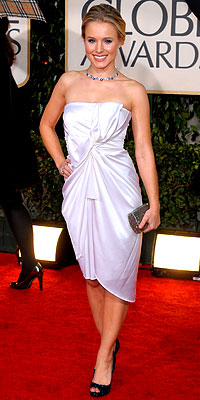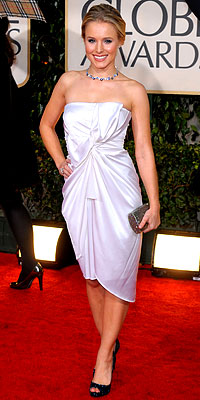 Kristen Bell – Jasmine di Milo
We can't understand why Kristen Bell told the world she wore a shorter dress to the ceremony because she needed to 'to be able to move like a tiger' but we'll let it pass because this Jasmine di Milo bandeau looks picture perfect. The look is kept simple with a Judith Leiber clutch and a Van Cleef & Arpels choker but we're not so sure on the black Louboutin's…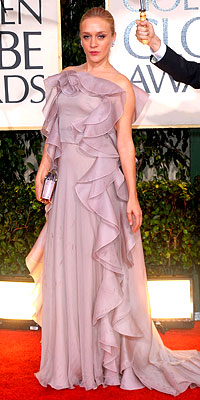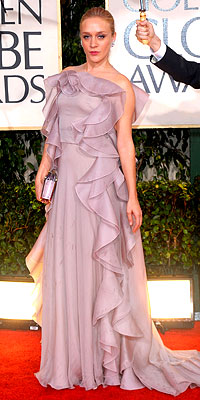 Chloe Sevigny
We can't imagine that it's hard for your evening to be spoiled after winning a Golden Globe, but Chloe Sevigny can't have been happy when her Valentino gown was trodden on – and ripped – as she went to accept her award for her role in Big Love!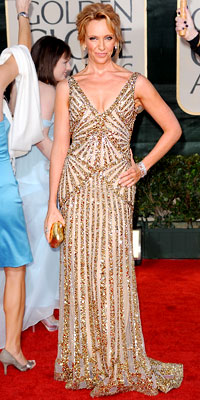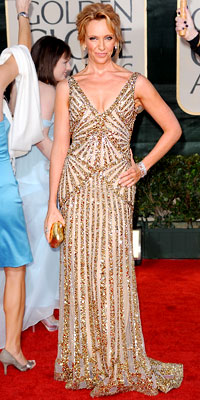 Toni Collette – Elie Saab
Toni Collette looked every inch the timeless Hollywood star in this sparkling gown and clutch from Elie Saab. The dress dipped low at the front and back, showing off the United States of Tara actress' svelte figure.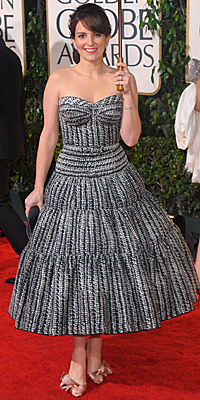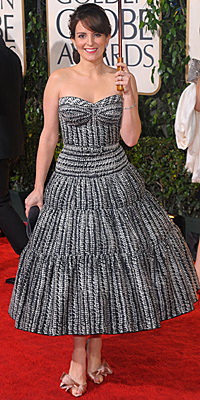 Tina Fey
We're not sure what happened here but it looks a bit like Tina Fey chose a lampshade to go to the awards in. The 30 Rock star opted for Zac Posen in this snake print tiered frock, rounding off the look with Christian Louboutin shoes.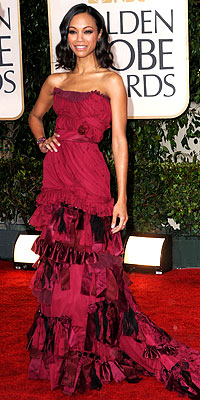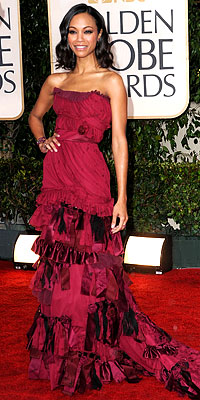 Zoe Saldana
The night might have turned out to belong to James Cameron (who surprisingly walked away with awards for Best Director and Best Picture), but all eyes were definitely on Avatar star Zoe Saldana in her textured Louis Vuitton.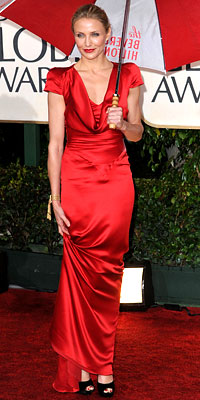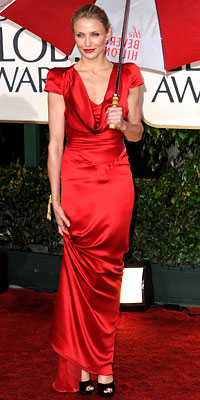 Cameron Diaz – Alexander McQueen
Not only is Cameron Diaz holding her own umbrella, but it matches! Looking striking as the other lady in red, Diaz kept it simple with slicked back hair and strong, red lippy.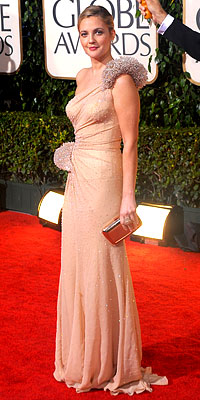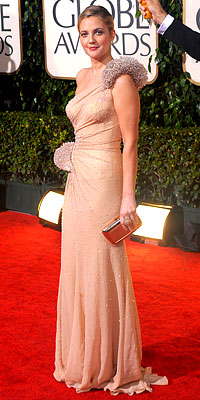 Drew Barrymore – Atelier Versace
Her acceptance speech might have been a bit of a hyperactive gush, but Drew Barrymore looked exquisite in her Atelier Versace gown, adorned with Swarovski crystals. In spring's favourite – nude – this was one of the looks of the night.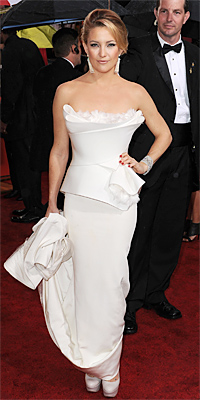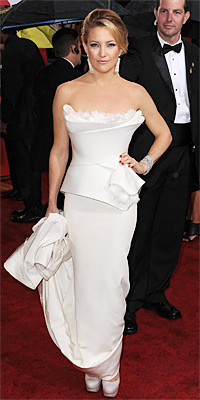 Kate Hudson
The Nine star accessorised her beautiful Marchesa number with pearl and diamond tassel earrings and a bracelet by Stephen Russell Contemporary Collection. We just hope she got nowhere near the red wine in that immaculate creation!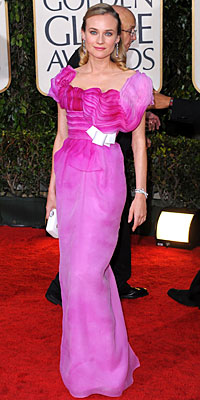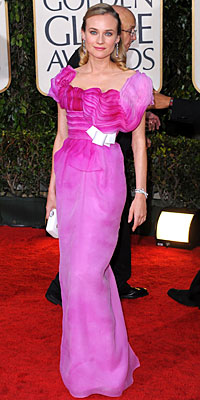 Diane Kruger – Christian Lacroix
Looking at this dress first off, our mind tells us that this just shouldn't work. It's bubblegum pink for starters. But Diane 'will look good in a potato sack' Kruger pulls off this romantic Christian Lacroix haute couture without looking like Barbie.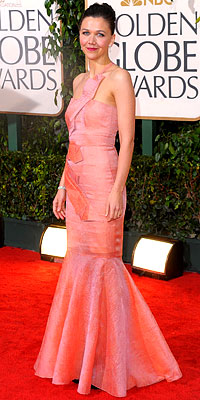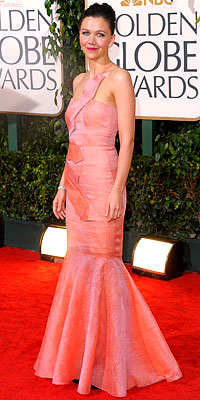 Maggie Gyllenhaal – RM Roland Mouret
Last year, Maggie wowed us with her leopard print Lanvin at the Golden Globes. This year? She's managed to do it again with this peachy perfect RM Roland Mouret gown.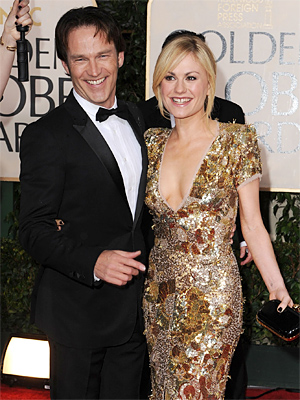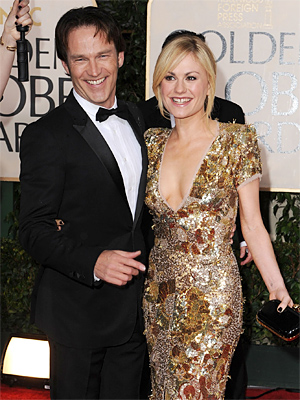 Anna Paquin – Stella McCartney
Accessorising this gorgeous, plunging gown perfectly with on-screen vamp Stephen Moyer, Anna Paquin gets our award for best dressed, giving her glamourous dress an edge with an Alexander McQueen, skull clutch.