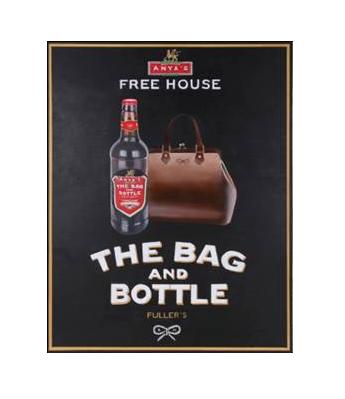 We may know her best for her luxury accessories, but to locals in London, Anya Hindmarch will be known herein as landlady , for a week, at least.
The designer is teaming up with Fuller's London Pride on a project called the Bag & Bottle , a week-long collaboration which will see Anya make over one famous London Pub into something far more fashionable.
"I have always loved anything that is traditional and British and what could be more so than the iconic British pub, says Anya, who is also designing for British heritage brand Barbour. "Being landlady for a week and having the chance to give this pub a make over is like a dream come true for me.
The first of its kind, the pub , which currently goes by the name The Star Tavern , will offer the occasional surprise barmaid, musical spoon playing and fab food, but more importantly, it will also play host to Hindmarch's A/W10 collection.
For two days, the Bag & Bottle will be used as the Anya Hindmarch A/W10 press showroom, where privileged fashion press will be able to preview the new collection (and the new pub).
Book a table between 24th and 26th March to see Hindmarch's handywork yourself at the Bag & Bottle, 6 Belgrave Mews, London SW1.