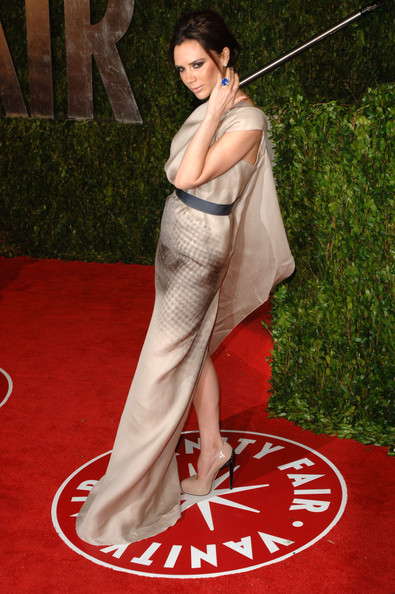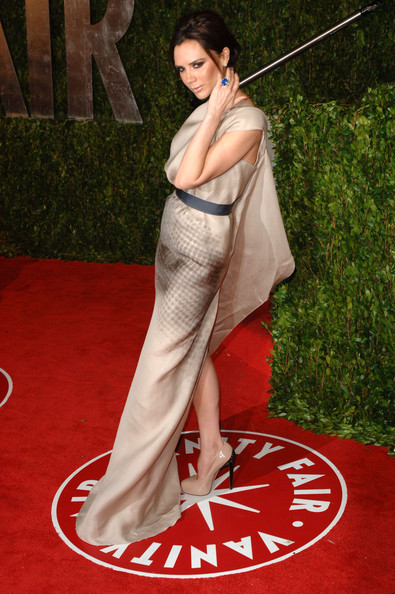 Truth be known, Victoria Beckham's had a tough ride in the fashion industry, though it seems after showing her fourth dress collection to much success, she may have just found a place in even the coldest of editors' hearts. But that acceptance didn't come without proof , and in Victoria's case, it certainly wasn't in the pudding, but in the dresses.
"I have had to prove myself. But that's a good thing: everybody has to prove themselves, not just me, she says. "I want to grow as a designer, I want to learn the techniques and do more and more.
"Look, it's a very basic way that I am doing this, she added. "You can see that from the gold dress. The drape has literally been draped on me. We tied it in a knot. And I thought 'that looks really cool — I like that'. Technically it's probably not the right way to do things. But there's a really fun, playful atmosphere in the studio.
Luckily for Ms. Beckham, that experimentation has paid off, particularly with her celebrity clientele. In recent months alone, her dresses have been spotted on Cameron Diaz, Demi Moore, Sarah Jessica Parker and Maddona.
"The support has been fantastic, Victoria admits to the Times Online. " And it's been great that it's been on lots of different body shapes as well. There have been tiny people wearing the dresses, such as Madonna, and then Jennifer Hudson wore one at the Golden Globes. The way the dresses have been constructed means that they are really flattering.
If nothing else, Victoria's passion for design in clear , let's face it, she doesn't need the money, nor does she need the clothes , yet she's faced some of fashion's most discerning critics and come out smiling.
"This is very much me. I feel more confident in myself because I feel fulfilled, creatively and professionally. I've still got a long way to go, but I feel very happy. I'm in a good place in my life. And I don't feel I have to prove myself as much as I used to have to.