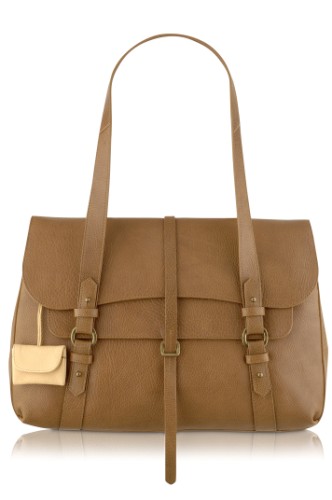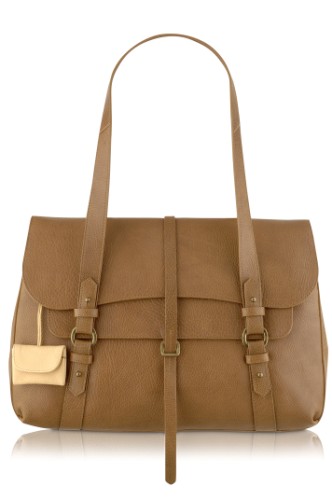 When we headed down to Radley to view their autumn/winter collection recently, we fell head over heels for the handbag range, which is also going into its second season of footwear. Classic Radley styles have been updated in sumptuous autumnal shades of burnt orange, mauve and olive green and exciting details were added for aesthetic purposes as much as practicality.
Inspired largely by 1920s Bloomsbury, their next collection features some beautiful tweed offerings, evoking that British charm that is found in all of Radley's hand-crafted designs and the range even includes a couple of shiny clutches in black and purple, marking their first season of patent bags. Our favourite of the lot – aside from the large olive-green and tweed number – was definitely the oversized clutch in tan, featuring a central embossed symbol, which looked to be a real departure for Radley.
Whilst Radley have experimented with new fabrics and introduced designs such as the brogue-detailed handbag and purses (a nice touch, perhaps influenced by the recent addition of footwear to the label), we are definitely seeing less of the classic, Radley pooch across designs. He's still there of course, representing the brand, but he is notably smaller and less on show and as much as we love the little pup, we have to admit that this is a move we definitely approve of.
Radley's across body pocket bag continues to be one of their best sellers due to its practicality and since the brand are committed to updating classics rather than changing them, we can expect to see slight alterations come autumn/winter, with an added popper fastening attached to the pocket bag's feature front compartment.
On show as well were the popular non-leather items and umbrella's bringing a sense of fun to the collection, with eye-popping colour and catchy slogans.
More importantly however was the footwear, a world in which Radley has only just stepped in to. While we weren't totally sold on the espadrille sandals and cork-heeled wedges of the spring collection, the brand definitely exceeded expectations with their selection of leather boots and platform court shoes for autumn/winter. With an overwhelming array of footwear in colours to match any of the new season handbags, the Radley girl is certainly spoilt for choice. It is perhaps understandable that the leather-based brand should excel in a season dominated by boots and is therefore not so surprising that our pick of the lot were a tan, ankle pair – closely followed, we should mention, by some mauve pumps, featuring a leather-covered, stitched heel.
Unfortunately we're unable to show you any photos until August so until then, why not take a look at Radley's spring/summer collection and see what you make of the brand's first venture into footwear.