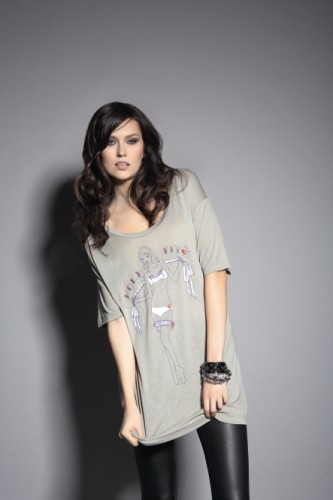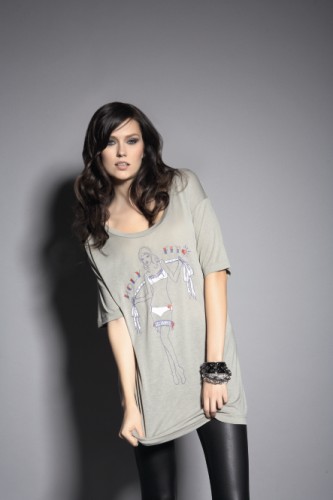 The dreaded bra fitting. It's something that us women know we should all have done, yet nearly 80% of us are still wondering around wearing the wrong sized bra.
Lingerie specialists Freya aim to change all that though, with their new campaign Holy Fit. (Get it?!) Created to raise awareness about the importance of a fitted bra, Holy Fit aims to educate women about the health risks involved by wearing ill-fitted underwear and to help us realise the positive change a fitted bra can make to our appearance and self confidence.
To celebrate the launch of this new campaign, Freya has collaborated with British textile designer Laura Lees to create a range of limited edition t-shirts that are both stylish and affordable whilst focussing on the Holy Fit message. Lees – who has previously worked on collections for Giles Deacon, Luella Bartley and Topshop – states:
'The message is vital for young girls. I myself wasn't fitted properly for a long time but now that I have, I can't believe the difference a simple bra has made to the way I look… This collaboration gave me a brand new design challenge and I wanted the t-shirts to be totally unique and bang on trend so they will appeal to all girls.'
Lees' designs are available in two sizes. This ensures that versatility is key, as the baggy tees can be paired with jeans; over leggings or worn even belted, as a dress. The general sizing also works to focus us on the idea that a bra-fitting is what is most important according to Holy Fit, as opposed to a tight-fitting top.
There are only 60 t-shirts in each design so you'll need to be quick to snap one up! Each shirt is just £25 and all proceeds go towards the Genesis Appeal, which works exclusively on the prevention of Breast Cancer.
To find out more about Freya's Holy Fit campaign and to purchase one of Laura Lee's exclusive t-shirts, visit the brilliant new website, www.holyfit.com
For more about the Genesis Appeal, head to www.genesisuk.org.
Right, we're off to Freya so we can practice what we preach…