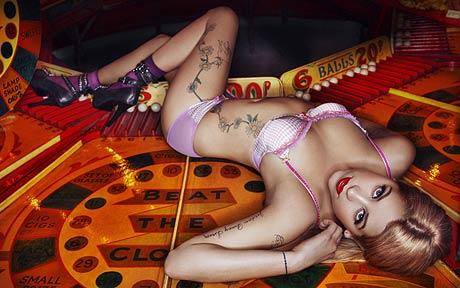 Take a good look at the picture above, because it won't be in shop windows for much longer. As rumours about the socialite surfaced over the weekend, Peaches Geldof has been dropped by Miss Ultimo after just two seasons following alleged drug taking.
After reports emerged yesterday that the 21-year-old shared a drug-fuelled night with an internet forum user last Thanksgiving (reports denied by her lawyer, we'd like to add), the lingerie company is taking no chances with Peaches, and will be removing her campaign images from shops, window displays and its website.
"We have been in meetings all morning with regards to the stories that have surfaced over the weekend about Peaches and unfortunately we have no option but to terminate her contract," a spokesperson for the brand told the Metro this morning. "Miss Ultimo is a brand geared towards a young female audience and as a company we have a social responsibility to ensure we are promoting only positive role models that young women can aspire to."
"We've given this a lot of thought," added Michelle Mone, founder of Ultimo, who picked Peaches to front the lingerie label last May because she was 'edgy', "but there's a point where a business must stick to its principles and as a brand that targets young women, we feel it is impossible for Peaches to continue to work with us as the face of Miss Ultimo lingerie."
A spokesperson for Peaches couldn't be reached for comment, but we assume this won't be the best news she's had this week.