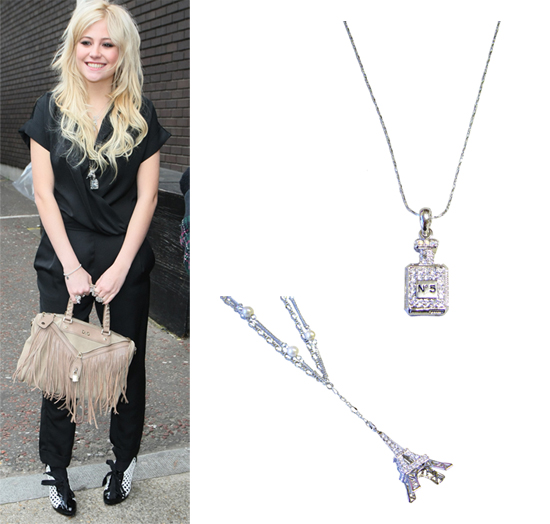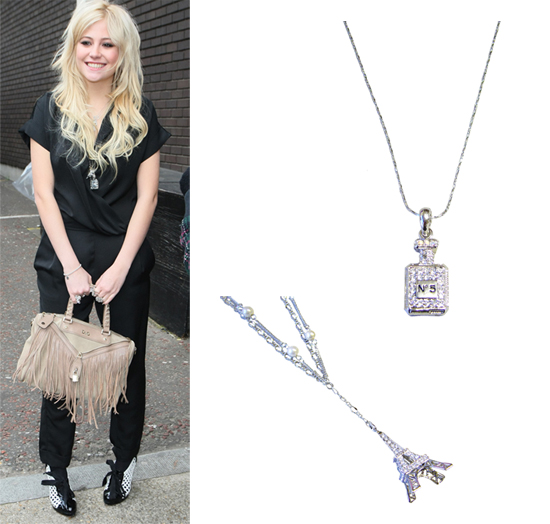 Songstress of the moment Pixie Lott arrived for her Radio 1 appearance last week sporting a laid back ensemble accessorised with quirky charm jewellery and a very on-trend fringed suede bag. With spot-on accessories, Pixie has the polished yet relaxed look down to a tee with her utility inspired jumpsuit-and-heel combo that's perfect off-duty pop star wear.
On closer inspection it's not just Pixie's clothing choice that's got our thumbs up, but her cute charm inspired necklaces give her outfit that extra stylish edge. Wearing a mix of necklaces including an Eiffel Tower charm and a No.5 perfume bottle charm these are the kind of quirky accessories that our favourite style icon, SATC's Carrie would own and we want to own them too!
Luckily Pixie's a girl after our own hearts and her taste in jewellery is not only super-cool but affordable too. Both the Eiffel Tower Pendant £27.95 and the No.5 pendant £14.95 are from jewellery brand Preshhus and available from preshhus.com.
P.S We love Pixie's new collaboration with Lipsy. The collection includes vintage style fabrics, denim and embellished pieces. Check it out here.