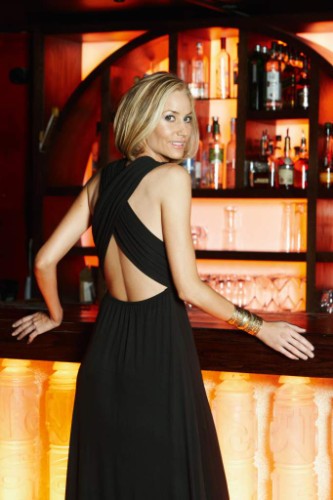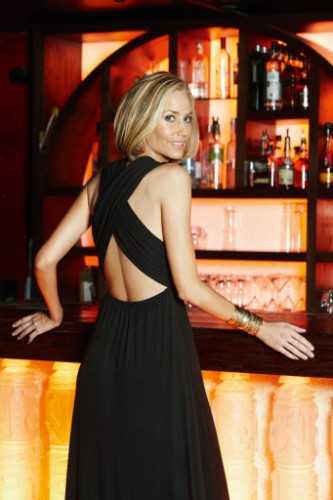 At just 15-years-old, Lisa Butcher started life out as model. After winning British ELLE's first modelling competition back in 1987, she was dubbed the 'Face of the 90s' by royal photographer Norman Parkinson and went on to star in campaigns for major brands including Ralph Lauren, Yves Saint Laurent and Max Factor.
Sticking with the fashion theme, Lisa also presented the first series of hit TV show Britain's Next Top Model and worked alongside Mica Paris on BBC's What Not To Wear, following the departure of the (rather terrifying) Trinny and Susannah. And now? Well, it seems the British beauty can add a few more strings to her stylish bow, as she is currently a designer and ambassador for tall-fashion specialist, Long Tall Sally.
We caught up with Lisa after the launch of Long Tall Sally's very first National Stand Tall Week to find out more about her involvement with the brand and to see what advice she could give to tall ladies out there who might struggle when it comes to shopping on the high-street.
How did your collaboration with Long Tall Sally come about?
Long tall Sally approached me after the second series of What Not To Wear. I had heard of the brand before, but felt the collections could be stronger. As it happened, the Bennett Brothers – who turned around Oasis and Phase Eight amongst other brands – had just bought out the business and wanted to create a totally new image for Long Tall Sally, so I jumped at the chance to work with them as they have such great reputations. I asked if I could have a go at designing, and it proved really successful and has just grown from there. Plus, it's also loads of fun!
As a designer and ambassador for Long Tall Sally, what advice would you give to tall women who are self conscious about their height?
My advice would be to stand tall and be proud of who you are. You were born to stand out, so why try to fit in!
Long Tall Sally is one of the few high street stores dedicated to tall women. Do you think that we will begin to see more of the same from other retailers? It seems that there is much more choice for plus-size and petite women at the moment, than there is for tall ladies…
Only 1% of clothes within the fashion industry cater for the tall market, so that just proves your point. I hope more retailers will catch on, as it's alienating to head out shopping with your friends and not actually be able to find anything that fits correctly. I think that one of the reasons Long Tall Sally really works and offers great looking collections is that they know tall women are all shapes and sizes – it's not just about making the sleeves and trousers longer, you have to tailor the whole fit to a taller body by altering darts, changing seams etc. That's where they are different from tall sections in retailers, who tend just to add on some extra inches to the pieces from the main collection.
What was the idea behind National Stand Tall Week and what can we expect from National Stand Tall Week's over years to come?
National Stand Tall Week is all about empowering women to be proud of, and celebrate their height. Being tall means that you're always seen, you can't just hide away when you're 6ft tall like I am! We really want to help tall women find their natural style and be comfortable with their height, and hopefully we're helping to make that happen. We'd love to see it build over the coming years.
What would you say is the best way to complement a tall figure?
Being tall, one can wear turn-up trousers, whereas people with shorter legs can't usually pull this off. Also, larger prints look fantastic on a taller frame, as on someone smaller the print could drown them. Maxi dresses look fab on taller women, they only problem I used to have was finding them long enough – but now with LTS you can! You can rock statement jewellery too.
What are the definite fashion no-no's when it comes to dressing a taller frame?
Taller woman can have larger feet, so if that's you, it's best to avoid trousers that are tighter around the ankles as it just brings more attention to that part of your body. But generally, I'd say that once you've found a brand that caters to your height, those extra inches mean that clothes tend to hang and sit better – there's a reason that models are 5' 8 and over!
What is your favourite item from your collection at Long Tall Sally?
The Pakho Dress – a black halterneck maxi dress. It's a dress you can wear anywhere.
Are you a heels or flats girl?
I have a cupboard full of wonderful high heels that I just look at. I live in flats!
You entered the fashion world as a model at the age of 15 and have since hosted two major, fashion-based TV programmes, as well as designed both jewellery and clothing. Do you think you would have been involved in the fashion world had you not entered ELLE's modelling competition back in 1987?
No, I had plans to be in the mounted police, My biggest love was horses, so I thought if I could combine that, with helping people in some respect, then it would be the best career for me, how wrong I was!
What is the best thing about being a tall woman?
Well….. you always stand out, and usually get the best view in a crowd!