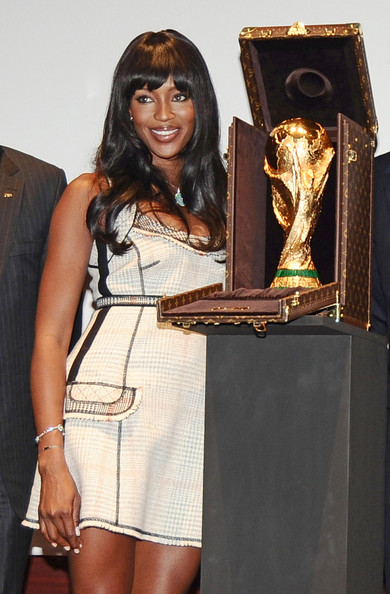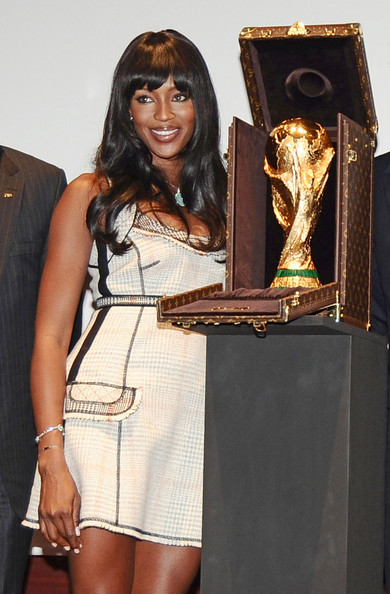 Louis Vuitton and football might not be two things you'd usually associate together, but that's all about to change. The luxury fashion house has created a new home for football's most-coveted trophy – the World Cup – which, as you might expect, is a suitably stylish 18ct gold custom-made travel case.
Now that's more like it. Naomi Campbell was on hand to unveil the luxury luggage yesterday with the trophy inside, no less, which is exactly where it's set to remain until it's handed to the winning country's team in July.
"We are very proud to have been chosen by FIFA to create the case in which the world's ultimate sporting prize will in future travel the globe," a spokesperson for Louis Vuitton told Vogue UK. "This exceptional commission truly honours Louis Vuitton's 150- year tradition of craftsmanship and savoir-faire. We are also delighted to be part of the great festival of football that the 2010 FIFA World Cup promises to be, and to renew our ties with the host country South Africa, with which we have had for many years a very special relationship."
Now, we don't think many football fans give fashion a second thought, but we have a feeling even they would be able to tell you where this case comes from – it is, after all, emblazoned with Louis Vuitton's signature monogram print.
And come to think of it, this is nothing. Remember that LV dog case?