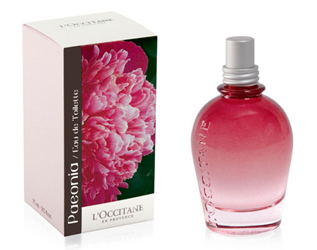 Famed for luxury soap, and a shop smelling distinctly like a Florist in Covent Gardens, L'Occitane has recently brought us their new 'Peony Collection.' You'd never guess, but it's based on the peony flower and the legends of beauty that surround it.
Split into two – fragrance and make-up, each product contains peony extract, leaves your skin smelling of fresh flowers and as expected is presented in striking packaging that truly enhances the distinction between this brand and high street competitors such as Body Shop.
I never expected anything other than luxury in the shape of soap and lipgloss and the smell of a French garden – which is exactly what I got.  Once again a fine example of L'Occitane promising to deliver and doing exactly that.
My favourite piece? The illuminating powder – not only balances the red in your skin and brightens your complexion, but brush it around your nose and you're smelling flowers all day! Not to mention the pretty picture in the powder! Definitely leads me to believe that summer is finally here!