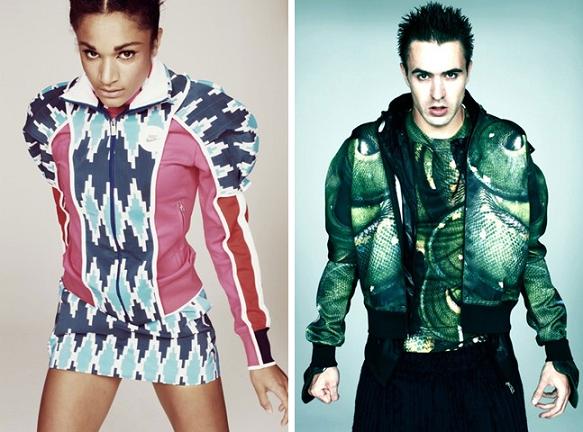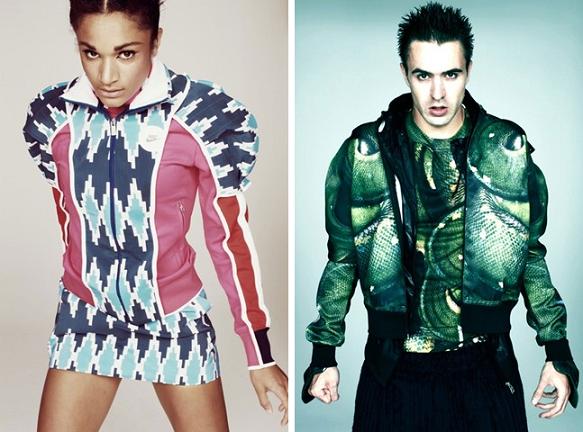 Think Nike and you don't necessarily think high fashion – but that might be about to change. The sportswear label has teamed up with six of fashion's finest emerging designers to give Nike's N98 track jacket a little makeover.
Among those getting their customising caps on are Felder Felder, Hannah Marshall and menswear designers Tim Soar and Katie Eary (who's soon to be launching a womenswear line, but you'll know that already if you've been paying attention this morning).
For her part, Eary was paired with 400 metre sprinter Martyn Rooney as her muse. "I was looking at the whole idea of an athlete, of perfection, and I thought about muscle," she told Vogue UK. "Rooney's physique has no fat, which led me to the snake – which is essentially just a muscle. So I took the N98 jacket and kept all of the core elements, like the zip, the structure etc., so keeping the skeletal structure and took away the flesh, adding my snake print upon the final piece with plastic scales in certain places across the garment."
Also taking part in the project are the talented trio behind Sibling – another NEWGEN winner, no less – and fashion favourite Julian J Smith, who's designs have been worn by the likes of Victoria Beckham and Olivia Palermo. His piece is designed with sprinter Jodie Williams in mind, and like its muse, Smith insists the jacket is a winner.
"I wanted it to exude a winning attitude and to have these enhanced shoulders that give an uplifted quality," he explained. "It's about that moment when you've won gold. Jodie's a sprinter so I wanted it to have a really dynamic feel, I was thinking about Japanese Manga."
Catch all six designs next month when, on July 22nd, they'll be on display at the 1948 Nike concept store, 477-478 Bateman's Row, London.