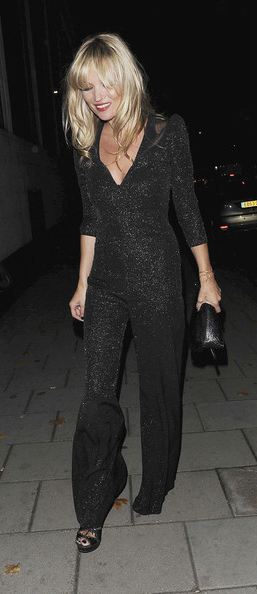 It's sad but true – Kate Moss has launched her last ever collection for high street favourite Topshop, and hosting a preview for shoppers on Monday night at the Oxford Circus flagship, she made it one to remember.
In true fashion icon style, the 36-year-old supermodel certainly didn't disappoint in the wardrobe department. Wearing a custom-designed silver Lurex jumpsuit – complements of the Topshop design studio – the mum-of-one went her separate ways with Toppers in a blaze of nostalgic glory.
The plunging neckline, flared tailoring and glitter embellishment on the jumpsuit paid homage to the disco diva era of the Seventies – heck, even the King himself would be jealous of this ensemble – much like her final offering for the store.
The British super dressed the look with black strappy sandals and patent clutch – all together a very vamp and ultra stylish outfit. After all, would you expect anything less?
Let's just hope Kate doesn't veer to far from the British high street… we're waiting on her collab with Uncle Phil's daughter.