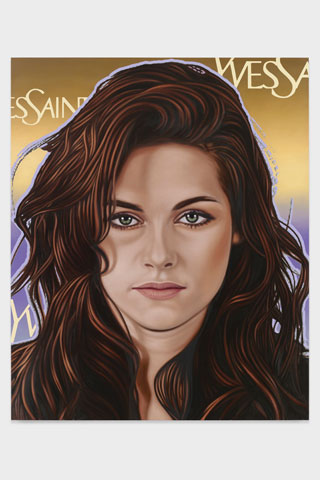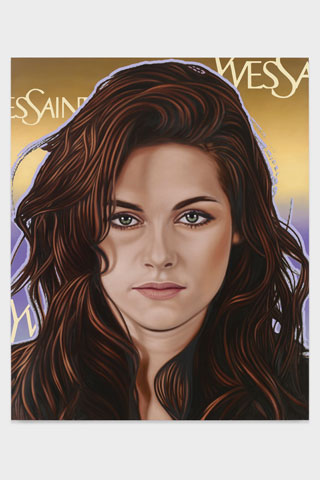 Proving just how obssesed we are with celebrities, branding and wealth (as a nation, that is), artist Richard Phillips' latest project, Most Wanted, captures just a few of the famous faces we love to lust-after – and yes, the Twilight crew are out in full force.
Having created portraits of celebrities painted on a backdrop of luxury fashion logos, the exhibition sets out to show the relationship between celebrity, fashion and its audience.
"The Most Wanted exhibition conveys the irreducible condition that our notion of contemporary culture has reached, where all forms of artistic endeavour must submit to the dominant presence of celebrity endorsement and luxury brand legitimisation through sponsorship in order to sustain and safeguard its existence," Phillips tells Vogue UK. "The large-scale, traditionally-painted portraits of the stars set against fashion logo step-and-repeat backdrops form an uncannily humanised version of this primary economic realism."
Er, yep, what he said. The portraits themselves are pretty stunning, of course, and with his work previously appearing in Visionaire, Phillips certainly has amazing artistic flare – but setting aside 10 one-of-a-kind paintings of the likes of Dakota Fanning, Robert Pattinson and Justin Timberlake to showcase at his lastest exhibition, the man behind the paint pot reveals his most prized painting of them all.
"When I had first finished the paintings, it was Dakota, as she was the last to be worked on and there was a sense that I had used what I had learned in the experience of painting the others to create the subtlety of expression that defines her public image at this point in her life," he says. "Having watched the Social Network yesterday, today I am gravitating toward Justin Timberlake, as I like how the uncanny realness of his portrait and in particular his eyes projects the intensity of his talent, not only in the great performance in the film, but in his music as well."
Most Wanted opens on January 28th and runs until March 5th at the White Cube Gallery, 48 Hoxton Square, London, N1 6PB.