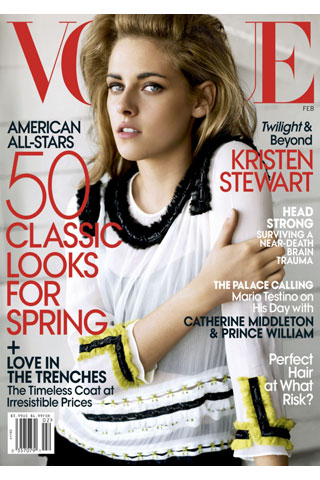 Deathly pale vampires are all the rage since the release of Twilight in 2008, and thanks to one sultry American actress in particular, the phenomenon has lived on ever since. But now reaching new fashionable heights in her career, Kristen Stewart has landed the honour of gracing her first Vogue cover in the US magazine's February issue – and yes, she still looks as sombre as ever.
Shot by renowned fashion photographer Marino Testino, Kristen sports a lighter 'do as she's snapped wearing straight off the runway pieces from one of her favourite labels, Proenza Schouler – look 27 from its SS11 runway, to be precise.
And pictured inside with the designer duo behind the brand, Jack McCollough and Lazaro Hernandez, it's the first time the threesome has met, despite Kristen sitting alongside the savviest style setters in many a Proenza piece in past.
"It's cool to see Kristen in the clothes because she's not like 'the lady'," Hernandez tells US Vogue. "That's exactly who we see in those clothes. Someone who takes that and kind of twists it. She's like the perfect girl."
And modest about her success and future, Kristen chips in: "I've been given these incredible, exceptional opportunities. Hopefully I won't mess that up."
Well now you can judge of that – do you think Kristen pulls off the Vogue US cover shoot? Or should she stick to what she knows best?