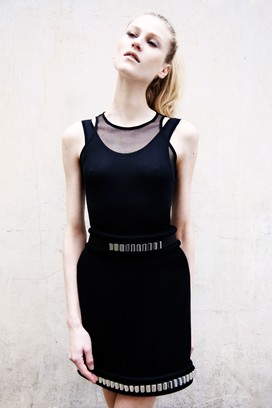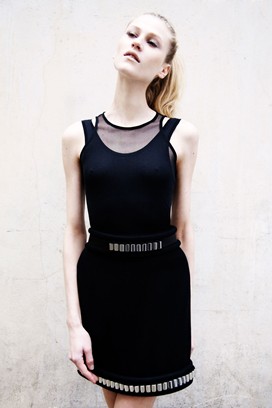 You know when Topshop seals the deal with yet another designer collaboration it's going to be an absolute corker, and their latest coup, the young, fresh and talented David Koma, is no exception.
The collection, due to hit stores in a few weeks, reflects Koma's signature structured designs, and inspired by the metal sculptures of William Pye, a technically-crafted cylindrical silver trimmed body-con dress accompanied by a backless metal tube waist belt are just a taster of what's to come.
"David epitomises the directional but feminine look that appeals to our Topshop girl," the store's senior buying director, Rachel Proud, tells Vogue UK. "It was important for the collection to stay true to the luxe element of his work, and to do this we needed to use premium fabrics and his signature shapes and metalwork. Fans of David's work will not be disappointed."
The Central Saint Martins graduate got his first stylistic recognition after having won the college's Best Womenswear Collection in 2007, followed by the Fashion Scout Merit Award and, this season, receiving NEWGEN sponsorship; it looks like Toppers are onto a winner again.
"Topshop signifies youth and modernity and its spirit evokes 'cool London,'" says Koma. "It was really exciting to work with the Topshop team as I felt they understood me as a designer and appreciated my need to make a high quality product without compromising the design aesthetic, quality of fabric or finishing. They helped make my vision a reality and I'm thrilled with the result."
But if you want to grab a slick slice of Koma we suggest getting your skates on – the collection consists of five unique pieces, with just thirty of each available in stores and online.