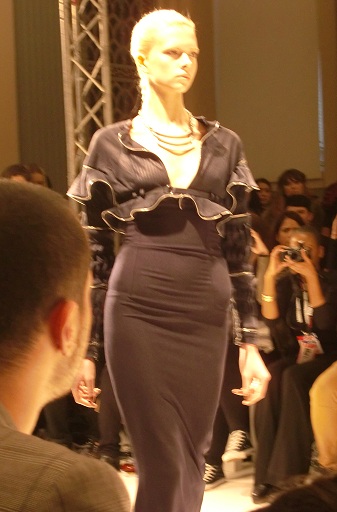 Who: Fyodor Golan
What: Contemporary tribal meets Greek goddess
Thoughts: Fyodor Podgorny and Golan Frydman – the designers behind the Fyoder Golan label  – created a collection which drew inspiration from the Renaissance and Regency periods titled 'Pagan Poetry'. It was teaming with bold African tribal influences and the charming splendour of the Greek goddess.
Soft leather was attributed symbolic scarring like that of various tribal customs for beauty, status and decoration. Using goats skin, the designers were able to manipulate the leather to create a textured pattern that was both interesting and becoming.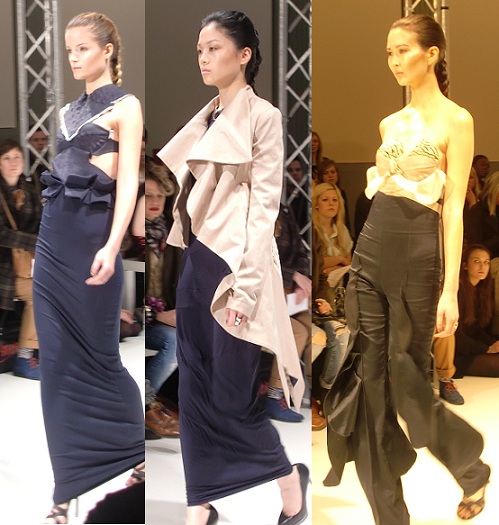 Feather bodices were paired with high-waisted trousers with additional leather flay at the side and front, adding volume to a conventional straight leg. Ruched nude sheer mesh instilled a sexy panache and many dresses combined stiff cut-out hard lines in the bodice with soft silk maxi flow from the hip.
There was a vast amount of detail creating linear patterns but it was all in a rather confined palette of navy, nude and brown – that is, apart from the one and only electric blue number with sultry sky high slits.
Opulence was conveyed in the fabric, luxury in the extensive workmanship and raw expression in the metaphoric symbolism. A wealth of elongated silhouettes worked to enhance the theme – the  powerful, striking and well-respected woman.