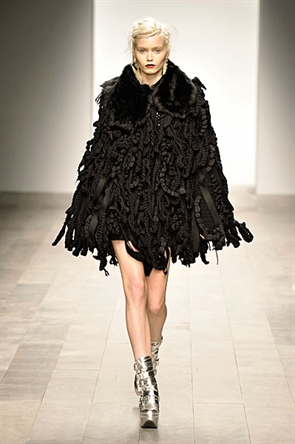 Who: John Rocha
What: Decadently dark texture in black and nude, balancing strong structure with soft silhouettes and dramatic headwear.
Thoughts: It may be black and nude only – save for a sparse splash of orange-red – but John Rocha's autumn/winter 2011 collection is far from limiting.
Texture-heavy and inspired by everything from Pierre Soulages' paintings to Neil Young's Harvest Moon and the harsh Icelandic landscapes, extravagant tinseled yarns, twisted and knotted intricately to hang like decadent fringing, opened the show in black – a cape with a fur collar, the skirt of a mid-length embellished dress, a cropped bubble coat.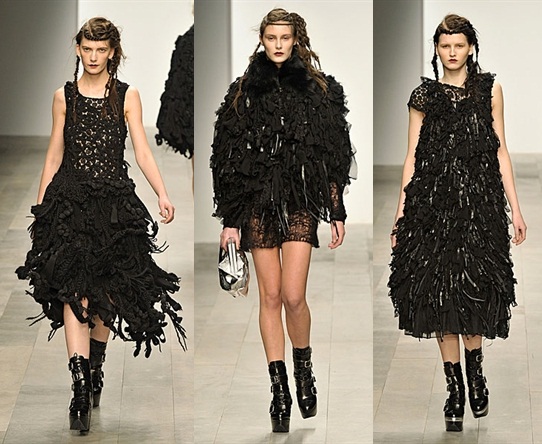 Structure works with volumious shapes to create stiff, sculpted coats and bell-bottom dresses, where again rich texture takes centre stage in elegant lace applique, looped yarn, sheer chiffon and tufts of threads.
Silhouettes are softly draped, often falling asymmetrically with air-like lightness, and are paired with hand-crocheted separates, lambskin leathers, angoras and shearling to stop it all becoming too heavy – dramatic entangled pieces with sheer under layers; structured dresses with tumbling crochet.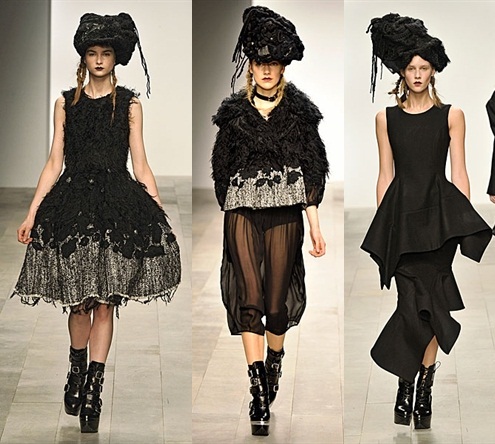 Milk and blush shades worked well to soften against the dark decadence, as did the occasional pops of orange-red seen in loose sheer trousers and a ponyskin coat, again emphasising Rocha's exceptional talent for balancing strength and tenderness. He's brought a new elegance to his signature designs this season, and a cool, contemporary edge, too.