What: Avant garde statement amulets, delicate and feminine jewellery.
Thoughts: There was an air of surrealism that clung to Maria Francesca Pepe's autumn/winter 2011 exhibition. It felt as though we'd stepped into another time somewhat and not just off a drizzling London street. Tribal, medieval and edgy punk elements all co-existed in a collection that was harmoniously bold and delicate.
Models were draped over plinth-like blocks and adorned chunky helmets and shields emblazoned with gems and crystals. Chains linking delicate pearls hung from hips and luxurious shawls were given a brash pizazz with safety pin brooches spelling FEAR. Heels were attached side spikes, bondage masks were studded with steel and ring sets were attributed either a dangling YES or NO – worn, we guess, according to mood or perhaps indecisiveness.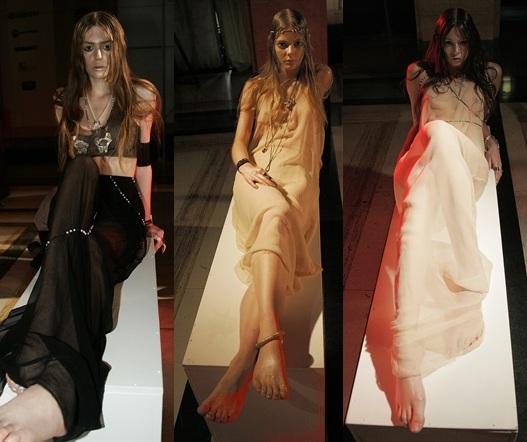 The tough and the glamorous cohesively danced together in tribal necklaces, anklets and bracelets in leather and silver. Horns with spiked domes were not the most wearable (well, depending on who you are) but definitely the most eye catching.
Pepe's most original component is her jewellery-wear, where the boundaries between clothing and accessories become hazy whilst retaining a modern adaptability – a niche not fully explored so it's exciting to see development in this genre.