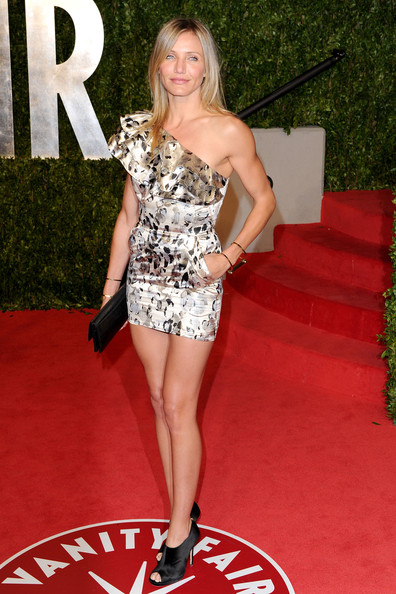 Generally speaking as your age increases, your skirt should lengthen. You wouldn't think this rule would apply to someone like Cameron Diaz, but it seems that sometimes, Hollywood is not excluded.
At the Vanity Fair Oscar Party Sunday night in LA, Ms. Diaz wore a monochrome animal print Carolina Herrera number to show off her fabulous figure. We were, however, left horribly disappointed.
Only just about covering her behind, the skin-tight asymmetric dress with its peplum detailing was unflattering on the near-40-year-old, and wasn't helped by the safe black shoe boots and clutch bag, which were a tad too plain for the daring dress.
The outfit would have been far more more fitting in a nightclub than on the red carpet (and we reckon Cameron could do with putting down the dumbbells for a while – look at those biceps!).
But we want to know your verdict on Cameron's outfit – is it tantalising or tacky?
[poll id="44″]