Last Updated on 9th March 2011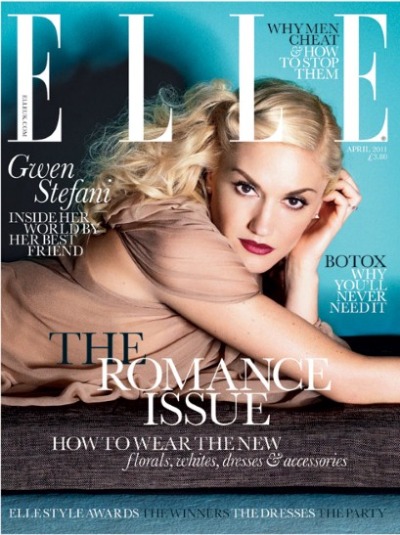 Many magazine issues across the board are bound to feature, in one way or another, the genius work of John Galliano in the coming months. But as Elle embraces Gwen Stefani as its cover girl for April, it may have just pipped the others to the post.
In an exclusive interview with the British magazine, pop singer-turned-fashion-designer Gwen Stefani talks candidly to old friend and Garbage front-girl Shirley Manson about her world and all things fashion – and, more importantly, handing over her Galliano wedding dress to the V&A museum.
A snippet from the interview below:
SM: "What have you worn over the years that you've thought, 'F***, I looked good!'
GS: My wedding dress.
SM: That wedding dress was insane! [John Galliano] is one of the greatest living designers.
GS: Oh, for sure. When I got engaged and someone told me that John said he would make my dress, I was like really? I said I wanted it to be over the top, but not traditional – I wanted it to be everything. But how do you tell this genius over the phone? He was, like, OK, and sent me these drawings of this unbelievable, perfect dress. It's going into the V&A now. I didn't wanna send it because I was scared it would get ruined. But it's a work of art, it needed to be seen."
It seems one way or another John Galliano's design legend is destined to live on, alongside his notorious work.
Catch the full interview in the April issue of ELLE magazine, on sale today (Wednesday 9th March).