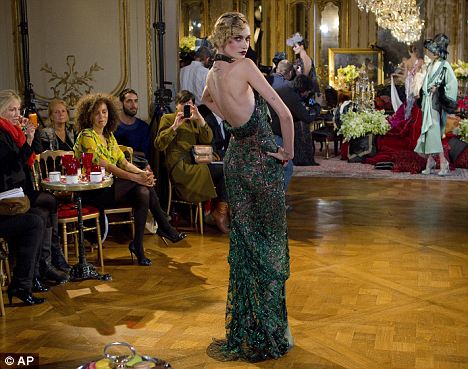 After John Galliano was fired from his creative director post at Christian Dior last week for making anti-Semitic remarks, it was unsure whether or not the designer's own AW11 collection – owned by Dior parent company LVMH – would go ahead at Paris Fashion Week or not.
In the end, company executives decided on a low-key event, and held the small scale presentation at a townhouse in Paris' moneyed Avenue Foch, where just 19 looks were showcased to press and buyers.
The show itself was a somewhat sorry affair, and with Galliano understandably absent from the proceedings, the viewing was accompanied by music from Adele's Rolling in the Deep and Coldplay's Viva La Vida, with lyrics such as 'We could have had it all' and 'I used to rule the world' adding to the somber mood of it all.
The models were dressed in signature Galliano gowns, with layered tweed jackets, pared-down pencil skirts, pleated sundresses, fur trimmed parkas and floral centrepieces – all finished off with distinctive bow shaped lipstick and dark smoky eyes, reports The Daily Mail.
The New York Times shared this view on the show, adding, "typically Galliano, [a] mix of romantic dresses, a loosely draped mint kimono with black lace appliqué, a black vinyl trench and a silk halter dress."
But with Galliano now rumoured to be in rehab in Arizona, his future – and his brand's – still seems an undecided one.
See the looks from what might be his final collection below…