If Florence Welch wears a lot of Gucci on her upcoming tour, it's because the luxury label is dressing her especially for the occasion – but that doesn't mean she's the new face of the label.
Gucci's creative director Frida Giannini has designed Welch's entire wardrobe for her forthcoming North American tour after being inspired by the singer's "eccentric style and her willingness to dare" – but that's as far as their collaboration is going, for now.
The luxury label has confirmed the rumours that surfaced last week suggesting Frida had tapped Florence to front Gucci's new campaign for AW11 aren't true. Not that Florence seems to mind.
"I was extremely flattered when I heard that Frida's collection had been inspired in part by my performances and I was completely bowled over by her collection, the dresses seemed perfect for my shows, the colours, the shapes, the movement in the fabric," she said in a statement.
"So it seemed natural that we work together on creating some pieces for my upcoming US tour. I'm very grateful to Frida, it's been a wonderful experience and I can't wait to get dressed for the stage!"
We can't wait to see the results – judging from the sketch, expect ethereal floor-length dresses in typical Florence style.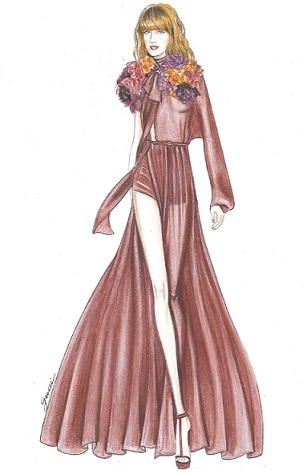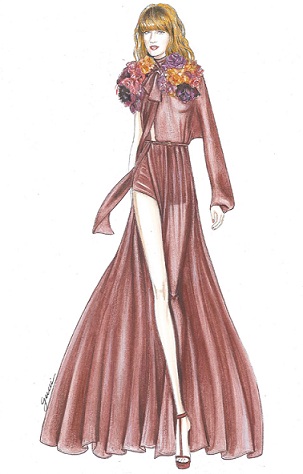 [Styleite]