Jessie J has just been named the face – and legs – of House of Holland for Pretty Polly tights and frankly, we couldn't think of a better partnership. 
Not only does Jessie have a cracking pair of pins, she's rarely seen without a pair of the most outlandish, crazy and down-right decadent tights adorning her enviable legs, so it seems only natural that she should front Henry Holland's fabulously fun designs.
"She's got awesome style, but her attitude as well as her persona make a terrific choice for our collection," said Pretty Polly brand director David Hinchliffe.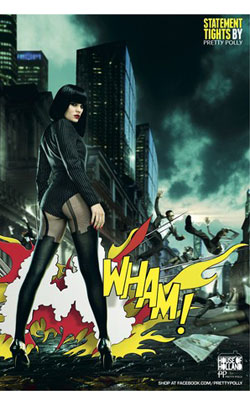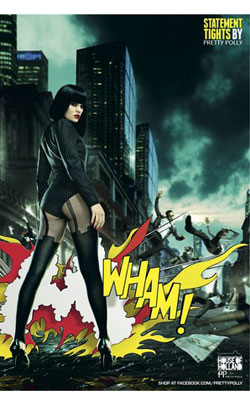 Jessie's been a busy lady and has already shot the super-hero themed, comic book-inspired ad campaign for the collection (pictured above via Grazia Daily).
"The campaign is all about how our tights make a girl feel, it's about empowering a girl when she's wearing our products and recognizing the effect she will have on the people around her," added Hinchliffe. "Hence the 'POW!' and 'WHAM!'."
If you can't get enough of tights at the moment (we don't blame you, winter's on its way), head down to London's Covent Garden from next week and find the Pretty Polly pop-up shop, open open until January 21st, so you can get your hands – and legs – on the current House of Holland collection.