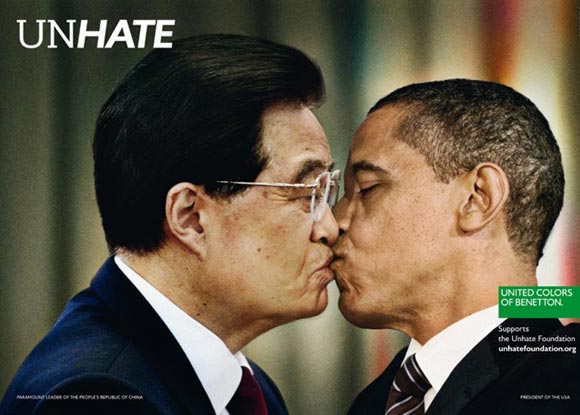 If someone told us a few months ago that we would see American president Barack Obama kiss Venezuela's Hugo Chavez and China's Hu Jintao in an ad campaign, we wouldn't have believed them. Yet this is exactly what has happened, thanks to Benetton and some trusty Photoshopping. 
Benetton, who is renowned for releasing controversial ad campaigns, dreamt up the concept of the world's leaders locking lips to promote the company's UNHATE Foundation.
"The UNHATE Foundation, desired and founded by the Benetton Group, seeks to contribute to the creation of a new culture of tolerance, to combat hatred, building on Benetton's underpinning values," a press release reads. "It is another important step in the group's social responsibility strategy: not a cosmetic exercise, but a contribution that will have a real impact on the international community, especially through the vehicle of communication, which can reach social players in different areas."
Obama isn't the only one puckering up for the cause – Angela Merkel & Nicolas Sarkozy appear to be kissing, as do Mahmoud Abbas & Benjamin Netanyahu. We've uploaded a few of them for you to browse and form an opinion and get back to us. Are they effective? Disrespectful? Too controversial? Brilliant? You decide.
[nggallery id=131]