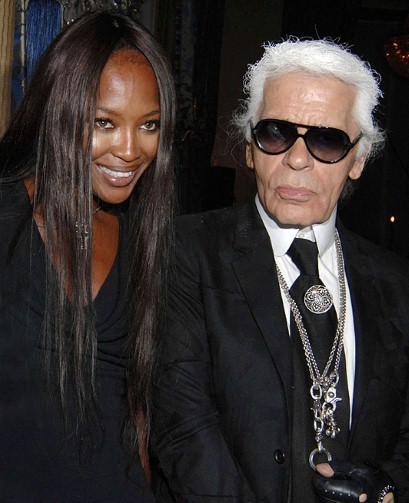 Both Naomi Campbell and Karl Lagerfeld are no longer content with being at the top of their own professions – they're set to take the world of magazine editing by storm too! 
Kaiser Karl has signed up to guest edit the Metro International newspaper for a one-off 'World According to Karl' edition that will be published during the newspaper's autumn/winter 2012 fashion week coverage.
"I love daily papers and it's fun to be part of one of them just for the day," Karl said. "Metro is on a worldwide scale so it's even more fun."
The publication is read in 100 cities and 22 countries, which amounts to 800 million people… so no pressure there, then. The Metro is looking for an editorial assistant to fly to Paris in February and help Karl with his editing duties, so if you think you have what it takes (and want to bag yourself some free clothes courtesy of the man himself – think of it as a thank you present) then keep a beady eye on the Metro for more news on how you can enter the competition.
Naomi Campbell's task doesn't appear to be any less daunting either, as she has signed up to guest edit both the Russian and  German versions of the popular Interview magazine. Apparently Naomi is working on some Q&As has already penned her introduction letter. We're itching to know what she has written.This collaboration sounds rather marvellous doesn't it… we can't wait for February!