Last Updated on 12th February 2012
So, what went down on Day 3 of New York Fashion Week you ask?
Londoners may be pleased to know that Rachel Zoe's collection was apparently inspired by London's rock and roll glamour of the 60s, as well as the styles of Mick Jagger and Marianne Faithfull. We can totally see how her collection was influenced by all of the above, with some of our favourite pieces consisting of the faux fur coats, thigh high boots and skinny tux styles.
Gwen Stefani's LA.M.B collection had the signature edge that all Gwen pieces do, even though she went in a slightly more mature direction. There was an abundance of bright colours and pieces inspired by the 50s and early 60s as well as other rockabilly/rock chick/punk vibes. Some of the styles were somewhat reminiscent of Amy Winehouse's Fred Perry collections (and not just because of the beehive dos), but with a more feminine and edgy twist.
Although Monique Lhuillier's collection was darker, more sultry and less feminine than her previous outing (there are far less Oscar-worthy dresses) it had just as much impact, if not more. Red and black was very prominent, which the designer said was inspired by the Chinese year of the dragon. Silhouettes were long, lean and flowing, and patterns were busy, fiery and sometimes even shimmering. A stunning collection if ever there was one.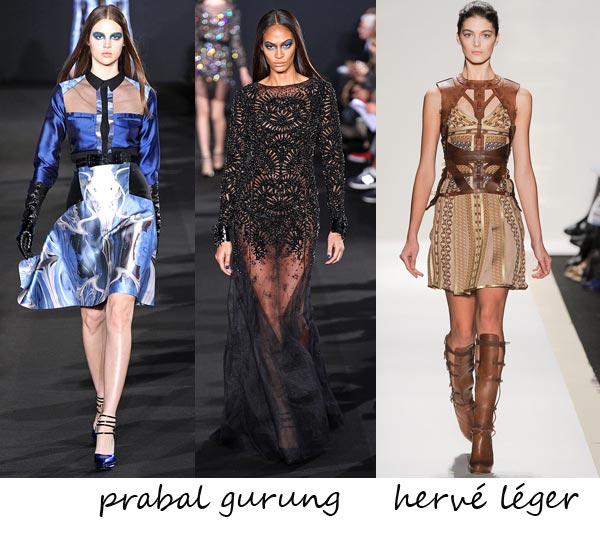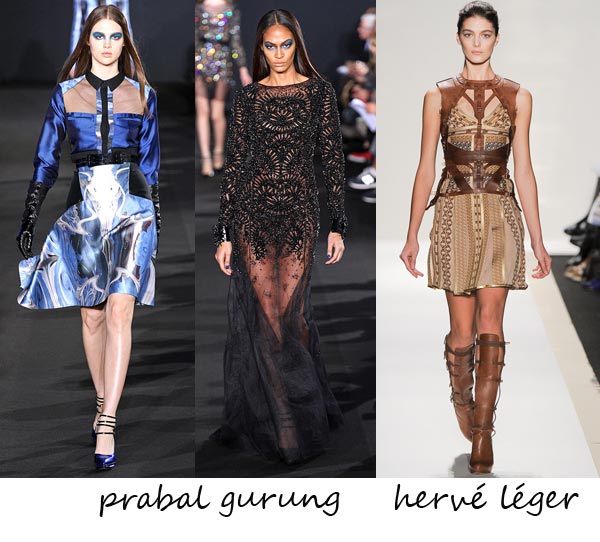 Prabal Gurung showed his highly anticipated collection, which was comprised of mainly form fitting garments, futuristic prints, colours and textures, as well as strong silhouettes with lots of lace, feathers, ruffles, tassels and sheer trains to name but a few. It was less distinguished than the previous collection which was made up of primarily purple printed pieces, but the Prabal Gurung signature is still very much apparent!
Hervé Léger by Max Azria went for an equestrian meets bondage meets Pocahontas theme, offering the signature bandage dress with a slightly different vision. There were mini and maxi dresses alike accessorised with harnesses of different shapes, colours, styles and textures, proving that the label  – and perhaps even the classic fan of the label – has grown up. We can't wait to see how the celebs will work this look in the coming months!