We couldn't help but think of Kate Middleton and Angelina Jolie when we saw the Jenny Packham collection that showed on Day 5 of New York Fashion Week, as they are two of the designer's most famous fans. We were on the lookout for gowns they could potentially wear, and as expected, we found them!
Mary-Kate and Ashley Olsen's The Row catwalk show was just as we expected too; the collection was comprised of predominantly monochrome designs with clean and fuss-free silhouettes… and all were accessorised with flat ribbon sandals. If that doesn't prove that flats can be uber-stylish, we don't know what will.
We adored the styling and mood over at Marc Jacobs. We don't know whether we would be able to get away with wearing the oversized hats (inspired by Anna Piaggi) on the tube, but if we had the funds, we'd definitely invest in a vast majority of them, with the Bagpuss/candy-floss one being our first purchase! Hats aside, the rest of the collection was comprised of cosy, fluffy and English weather-appropriate outerwear pieces, multi-print dresses, pilgrim shoes and plenty of glitter and tinsel.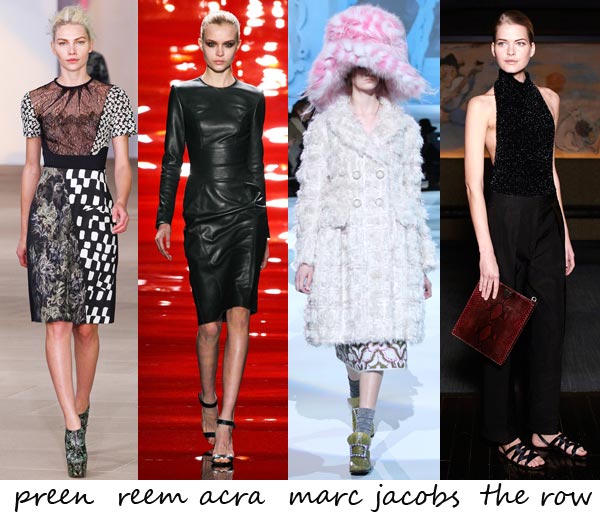 Preen's Justin Thornton and Thea Bregazzi gave us lots of mustard, camel and monochrome shades as well as lots of mix and match style dresses. The countryside and nature were huge influences on the collection, which is made apparent by the prints and colours. Bear with us on this one, but the look we selected reminded us of that scene in Disney's Sleeping Beauty where Aurora's surprise birthday dress ended up being a mish-mash of all the fairies' visions for it… know what we mean?
What else went down on day 5? Well, the female tux is back if Donna Karan's latest collection is anything to go by, Betsey Johnson's catwalk outing was once again exaggerated and full of neon and psychedelic prints,  and Reem Acra went for a female empowerment vibe with lots of slinky, leather and embellished designs. Another successful day!